I'm trying to use some one else grass code with it shader but it doesn't seem to draw correctly.
It doesn't draw completely transparent on a side and the other way it will not be transparent at all.
I may have done a mistake some where… It s not the first time i have a hard time with the Transparency. I did try to put Transparent bucket or Translucent. I ve tryed every alpha mode possible too.
Undesired result: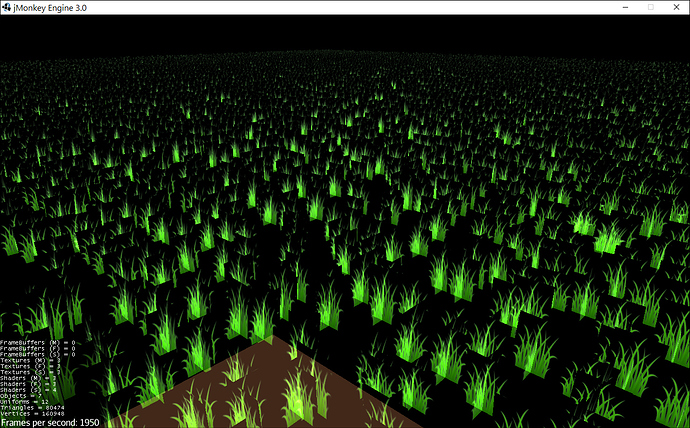 The code I testing the grass with:
package LostWorld.grass;

import com.jme3.app.SimpleApplication;
import com.jme3.light.DirectionalLight;
import com.jme3.material.Material;
import com.jme3.material.RenderState.BlendMode;
import com.jme3.material.RenderState.FaceCullMode;
import com.jme3.math.ColorRGBA;
import com.jme3.math.FastMath;
import com.jme3.math.Quaternion;
import com.jme3.math.Vector2f;
import com.jme3.math.Vector3f;
import com.jme3.post.FilterPostProcessor;
import com.jme3.post.filters.TranslucentBucketFilter;
import com.jme3.renderer.queue.RenderQueue.Bucket;
import com.jme3.scene.Geometry;
import com.jme3.scene.Mesh;
import com.jme3.scene.Node;
import com.jme3.scene.Spatial;
import com.jme3.scene.shape.Quad;
import com.jme3.texture.Texture;

import java.util.Random;

import jme3tools.optimize.GeometryBatchFactory;

public class CustomGrassTest extends SimpleApplication {

    public static void main(String[] args) {
        CustomGrassTest app = new CustomGrassTest();
        app.start();
    }

    private float elapsedTime = 0;
    private Material grassShader;
    private Geometry grassGeom;
    private Node allGrass = new Node("all grass");
    private Vector2f windDirection = new Vector2f();
    private float windStrength;
    private Random random = new Random();
    private Geometry ground;

    public void simpleInitApp() {
        
//        FilterPostProcessor fpp = new FilterPostProcessor(assetManager);
//        TranslucentBucketFilter tbf = new TranslucentBucketFilter();
//        tbf.setEnabled(true);
//        fpp.addFilter(tbf);

        DirectionalLight light = new DirectionalLight();
        light.setColor(new ColorRGBA(0.9f, 0.9f, 0.9f, 1.9f));
        light.setDirection(new Vector3f(0.7f, 0.8f, 0.7f));
        this.getRootNode().addLight(light);

        DirectionalLight otherlight = new DirectionalLight();
        otherlight.setColor(new ColorRGBA(0.9f, 0.9f, 0.9f, 1.9f));
        otherlight.setDirection(new Vector3f(-0.7f, 0.8f, -0.7f));
        this.getRootNode().addLight(otherlight);

        this.getFlyByCamera().setMoveSpeed(10);
        ground = new Geometry("ground", new Quad(10, 10));
        ground.setMaterial(new Material(assetManager, "Common/MatDefs/Misc/Unshaded.j3md"));
        ground.getMaterial().setColor("Color", ColorRGBA.Brown);

//Texture t = assetManager.loadTexture("Textures/Terrain/grass.dds");
//t.setWrap(Texture.WrapMode.Repeat);
//ground.getMaterial().setTexture("ColorMap", t );
        ground.setLocalTranslation(0, 0, 10);
        ground.rotate(-90 * FastMath.DEG_TO_RAD, 0, 0);
        rootNode.attachChild(ground);

        windDirection.x = random.nextFloat();
        windDirection.y = random.nextFloat();
        windDirection.normalize();

        grassGeom = new Geometry("grass", new Quad(2, 2));

        grassShader = new Material(assetManager, "MatDefs/Grass/MovingGrass.j3md");
        Texture grass = assetManager.loadTexture("Textures/Grass/grass.png");
        grass.setWrap(Texture.WrapAxis.S, Texture.WrapMode.Repeat);
        grassShader.setTexture("Texture", grass);
        grassShader.setTexture("Noise", assetManager.loadTexture("Textures/Grass/grass.png"));

// set wind direction
        grassShader.setVector2("WindDirection", windDirection);
        windStrength = 1.0f;
        grassShader.setFloat("WindStrength", windStrength);

        grassShader.setTransparent(true);
        grassShader.getAdditionalRenderState().setAlphaTest(true);
        grassShader.getAdditionalRenderState().setBlendMode(BlendMode.AlphaAdditive);
        grassShader.getAdditionalRenderState().setAlphaFallOff(1f);
//        
        
        grassShader.setColor("Color", new ColorRGBA(0.53f, 0.83f, 0.53f, 1f));
        grassShader.setFloat("Time", 0);

        grassShader.getAdditionalRenderState().setFaceCullMode(FaceCullMode.Off);
        grassGeom.setQueueBucket(Bucket.Opaque);
        grassGeom.setMaterial(grassShader);
        grassGeom.center();

        Node[][] grassArray = new Node[10][10];
        for (int i = 0; i < 10; i++) {
            for (int j = 0; j < 10; j++) {

                grassArray[i][j] = new Node(i+"-"+j);
                
                for (int y = 0; y < 10; y++) {
                    for (int x = 0; x < 10; x++) {
                        Geometry grassInstance = grassGeom.clone();

                        grassInstance.setLocalTranslation(x+i*10 + (float) (Math.random() * 1f), 0, y+j*10 + (float) (Math.random() * 1f));
                        grassInstance.scale(0.4f, 0.4f + random.nextFloat() * .2f, 0.4f);
                        grassArray[i][j].attachChild(grassInstance);

                        Vector3f v3f = grassInstance.getLocalTranslation();
                        grassInstance = grassGeom.clone();

                        grassInstance.setLocalTranslation(v3f.add(0.4f, 0, 0.4f));
                        grassInstance.scale(0.4f, 0.4f + random.nextFloat() * .2f, 0.4f);
                        grassInstance.rotate(0, FastMath.DEG_TO_RAD * 90, 0);
                        grassArray[i][j].attachChild(grassInstance);
                    }
                }
                allGrass.attachChild(grassArray[i][j]);
            }
        }

        Spatial grassNode = GeometryBatchFactory.optimize(allGrass);
        grassNode.setQueueBucket(Bucket.Translucent);
        grassNode.setMaterial(grassShader);
//        grassNode.updateModelBound();

        rootNode.attachChild(grassNode);

    }

    @Override
    public void simpleUpdate(float tpf) {
        elapsedTime += 0.001;
        grassShader.setFloat("Time", elapsedTime);
    }
}

The Shader Frag:
#ifdef TEXTURE
uniform sampler2D m_Texture;
varying vec2 texCoord;
#endif
 
uniform vec4 m_Color;
 
void main(void)
{
#ifdef TEXTURE
vec4 texVal = texture2D(m_Texture, texCoord);
gl_FragColor = texVal * m_Color;
#else
gl_FragColor = m_Color;
#endif
}

The Shader Vert:
uniform mat4 g_WorldViewProjectionMatrix;
uniform mat4 g_WorldViewMatrix;
uniform vec4 g_LightColor;
 
uniform float m_Time;
uniform float m_WindStrength;
uniform vec2 m_WindDirection;
uniform vec3 m_ObjectCenter;
uniform vec3 m_CamPos;
 
uniform sampler2D m_Texture;
uniform sampler2D m_Noise;
uniform vec4 m_Color;
 
attribute vec2 inTexCoord;
 
attribute vec3 inPosition;
 
 //this is erroring
uniform float moveFactor = 0.06; // Play around with this
 
varying vec2 texCoord;
varying vec4 color;
 
#ifdef VERTEX_COLOR
attribute vec4 inColor;
#endif
 
void main()
{
vec3 displacedVertex;
displacedVertex = inPosition;
texCoord = inTexCoord;
 
float len = length( displacedVertex );
 
float noiseCoord = m_Time;
 
int totalTime = int(m_Time);
if (totalTime > 4096) totalTime -= 4096;
 
int pixelY = int(totalTime/64);
int pixelX = totalTime/ -pixelY;
float noiseFactor = texture2D(m_Noise, vec2( pixelX*10, pixelY*10 ) ).r;
// get pixel from noise map based on time. use to create additional variation
 
vec3 wvPosition = (g_WorldViewProjectionMatrix * vec4(displacedVertex, 1.0)).xyz;
 
if(inPosition.y>=0.1)
{
displacedVertex.x += moveFactor * sin(m_Time * texture2D(m_Noise, wvPosition.xz*50.0).r + len) + (m_WindStrength * noiseFactor * m_WindDirection.x)/10.0;
displacedVertex.z += moveFactor * cos(m_Time * texture2D(m_Noise, wvPosition.zx*50.0).r + len) + (m_WindStrength * noiseFactor * m_WindDirection.y)/10.0;
}
 
gl_Position = g_WorldViewProjectionMatrix * vec4(displacedVertex, 1.0);
 
 
#ifdef VERTEX_COLOR
color = m_Color * inColor;
color.rgb *= g_LightColor.rgb;
#else
color = m_Color;
color.rgb *= g_LightColor.rgb;
#endif
 
}