I'm applying a sprite from a spritesheet to a quad and I can see that it can be transparent to a background comprised and some other quads created in a similar manner, but sometimes alpha channel seem to stop working when two quads overlap. Here is an example - the sprite I have is a dude and you can see that its bounding quad box interfering with some other "dude" sprites, but not all of them: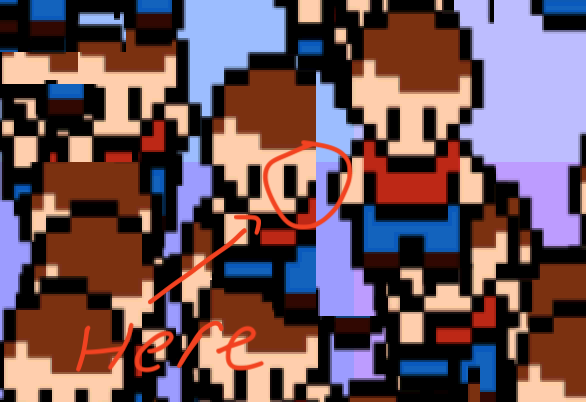 In the example that I have I'm adding a bunch of quads on top of each other and increment z-component of a new quad's location to make sure the new quad I'm adding will end up on top of the previously created ones. I do this by creating a float variable I call zOrder and after adding another quad I increment it by some number. I use ortho projection so I tried various deltas for zOrder value that in theory should all work but they don't - ranging from 0.01f to simply 1f.
A sprite is represented by a quad created in the loop as follows:
Quad b = new Quad(1, 2);
Geometry geom = new Geometry("Quad", b);
Material mat = new Material(assetManager, "MatDefs/Spritesheet/Spritesheet.j3md");
mat.setTexture("ColorMap", assetManager.loadTexture("Textures/spritesheet-4x4.png"));
// specify the number of columns and rows
mat.setFloat("SizeX", 4f); mat.setFloat("SizeY", 4f); mat.setFloat("Position", 2f);
mat.getAdditionalRenderState().setBlendMode(RenderState.BlendMode.Alpha);
geom.setMaterial(mat);

// add z order value to make sprites appear on top of each other
zOrder += 0.01f;
geom.setLocalTranslation(4 - 8 * random.nextFloat(), 4 - 8 * random.nextFloat(), zOrder);

geom.setQueueBucket(RenderQueue.Bucket.Transparent);
rootNode.attachChild(geom);

Edit: I tried some fixed values for zOrder thinking I'm using too many values so I tried "layers", e.g. an array of fixed zOrder values I'm choosing from for each quad but it too didn't work and I saw artifacts of wrong alpha channel handling for some quads.