This is an IQE format loader I wrote to load the Ryzom project assets that are available in IQE format here:
https://bitbucket.org/ccxvii/ryzom-assets
It loads both the models and their bonetrack animations.
This loader is part of a larger project I'm working on to make all of the Ryzom character models and animations easily available for use in JME projects.
Testing, technical suggestions, and feedback would be greatly appreciated.
Here's a picture of some of the Ryzom models loaded with my loader: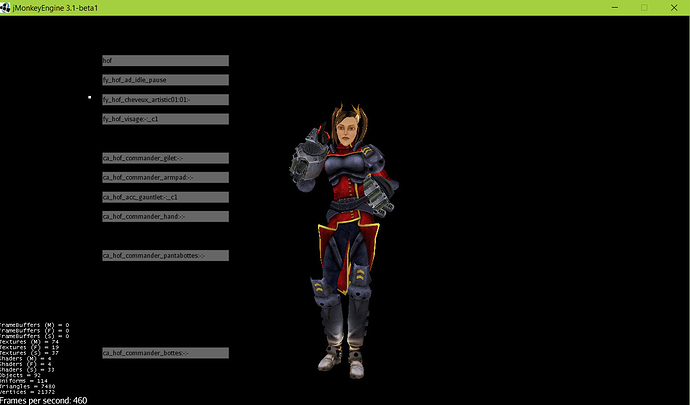 Here's the license:
import java.io.IOException;
import java.io.InputStream;
import java.nio.ByteBuffer;
import java.nio.FloatBuffer;
import java.util.ArrayList;
import java.util.HashMap;
import java.util.Iterator;
import java.util.LinkedList;
import java.util.Locale;
import java.util.Scanner;

import org.lwjgl.BufferUtils;

import com.jme3.animation.AnimControl;
import com.jme3.animation.Animation;
import com.jme3.animation.Bone;
import com.jme3.animation.BoneTrack;
import com.jme3.animation.Skeleton;
import com.jme3.animation.SkeletonControl;
import com.jme3.asset.AssetInfo;
import com.jme3.asset.AssetLoader;
import com.jme3.asset.AssetManager;
import com.jme3.asset.ModelKey;
import com.jme3.asset.TextureKey;
import com.jme3.material.Material;
import com.jme3.material.RenderState.FaceCullMode;
import com.jme3.math.FastMath;
import com.jme3.math.Quaternion;
import com.jme3.math.Vector3f;
import com.jme3.scene.Geometry;
import com.jme3.scene.Mesh;
import com.jme3.scene.Node;
import com.jme3.scene.Spatial;
import com.jme3.scene.VertexBuffer;
import com.jme3.scene.VertexBuffer.Type;

/**
 * Copyright Alweth on hub.jmonkeyengine.org forums 2017
 * 
 * Permission is hereby granted, free of charge, to any person obtaining a copy of this software (the "Software"), to 
 * use, and modify the Software subject to the following conditions:
 * 
 * The above copyright notice and this permission notice shall be included in all copies or substantial portions of 
 * the Software.
 * 
 * The software or any of its derivatives shall not be sold or distributed independently of the expressed intention of 
 * the author.
 * 
 * Any distribution of any of the output of the Software or its derivatives, or any derivative of such output shall 
 * include with it acknowledgement of the contribution of the author of this software, as above, in providing this 
 * software for use, free of charge.
 * 
 * THE SOFTWARE IS PROVIDED "AS IS", WITHOUT WARRANTY OF ANY KIND, EXPRESS OR
 * IMPLIED, INCLUDING BUT NOT LIMITED TO THE WARRANTIES OF MERCHANTABILITY,
 * FITNESS FOR A PARTICULAR PURPOSE AND NONINFRINGEMENT. IN NO EVENT SHALL THE
 * AUTHORS OR COPYRIGHT HOLDERS BE LIABLE FOR ANY CLAIM, DAMAGES OR OTHER
 * LIABILITY, WHETHER IN AN ACTION OF CONTRACT, TORT OR OTHERWISE, ARISING FROM,
 * OUT OF OR IN CONNECTION WITH THE SOFTWARE OR THE USE OR OTHER DEALINGS IN THE
 * SOFTWARE.
 *
 * @author Alweth on hub.jmonkeyengine.org forums
 *
 */
public class IQELoader implements AssetLoader {
	private static final Quaternion FIX_ROTATION = 
			new Quaternion().fromAngleNormalAxis(-FastMath.HALF_PI, Vector3f.UNIT_X);
	InputStream in;
	Scanner scan;
	HashMap<String,LinkedList<? extends Number>> vectors;
	LinkedList<Triangle> triangles;
	ArrayList<Geometry> geometries;
	Geometry currentGeometry;
	LinkedList<Animation> animations;

	ArrayList<Bone> bones;
	int poseCount = 0;
	int jointCount = 0;

	TempAnim currentAnim;
	Skeleton skeleton;
	int maxNumWeights;
	
	public Object load(AssetInfo info) throws IOException{
		ModelKey key = (ModelKey) info.getKey();
		AssetManager assetManager = info.getManager();
		String objName    = key.getName();

		String folderName = key.getFolder();
		//HACK: JME's FileLocator seems to behave differently when used to access files outside of the standard 
		// assets folder. Specifically, the folder is not returned by getFolder() but included in getName().
		if (folderName.equals("")) {
			folderName = objName.substring(0, objName.lastIndexOf('\\') + 1);
		}
		
		//System.out.println("Loading IQE: " + objName);
		
		String ext        = key.getExtension();
		objName = objName.substring(0, objName.length() - ext.length() - 1);
		if (folderName != null && folderName.length() > 0){
			objName = objName.substring(folderName.length());
		}

		geometries = new ArrayList<Geometry>();
		bones = new ArrayList<Bone>();
		animations = new LinkedList<Animation>();
		maxNumWeights = 0;
		
		if (!(info.getKey() instanceof ModelKey))
			throw new IllegalArgumentException("Model assets must be loaded using a ModelKey");

		in = null; 

		Spatial out = null;
		
		try {
			in = info.openStream();

			scan = new Scanner(in);
			scan.useLocale(Locale.US);

			if (!scan.hasNextLine()) {
				throw (new IOException("File is empty."));
			} else if (!scan.nextLine().startsWith("# Inter-Quake Export")) {
				throw (new IOException("First line of an IQE file must be \"# Inter-Quake Export\"."));
			}

			while (readLine());

			if (geometries.size() == 1) {
				out = geometries.get(0);
				finalizeGeometry((Geometry)out, assetManager, folderName);
			} else {
				out = new Node();
				for (Geometry g : geometries) {
					finalizeGeometry(g, assetManager, folderName);
					((Node)out).attachChild(g);
				}
			}
			out.setName(objName);
			bindSkeleton();
			out.addControl(new SkeletonControl(skeleton));
			AnimControl animControl = new AnimControl(skeleton); 
			for (Animation a : animations) {
				animControl.addAnim(a);
			}
			out.addControl(animControl);
			out.updateGeometricState();
			out.updateModelBound();
			out.rotate(FIX_ROTATION);
		} finally {
			if (in != null){
				in.close();
			}
			
			scan = null;
			vectors = null;
			triangles = null;
			geometries = null;
			currentGeometry = null;
			animations = null;
			bones = null;
			jointCount = 0;
			poseCount = 0;
			currentAnim = null;
			skeleton = null;
			maxNumWeights = 0;
		}
		
		return out;
	}

	private void finalizeGeometry(Geometry g, AssetManager assetManager, String folderName) {
		String texture = g.getUserData("IQEMaterial");
		
		if (texture != null) {
			//These settings don't seem to be part of the IQE standard, but is used in the Ryzom exports.
			boolean doublesided = false;
			String[] settings = texture.split(";");
			String settingsString = "";
			texture = settings[settings.length - 1];
			int i;
			for (i = 0; i < settings.length - 1; i++) {
				doublesided = settings[i].equals("doublesided");
				settingsString += settings[i] + ";";
			}
			if (i > 0) g.setUserData("IQEMaterialSettings", settingsString);
			g.setUserData("IQEMaterial", texture);			
			
			//Assign the texture.
			Material mat = new Material(assetManager, "Common/MatDefs/Misc/Unshaded.j3md");
			if (doublesided) mat.getAdditionalRenderState().setFaceCullMode(FaceCullMode.Off);
			mat.setTexture(	"ColorMap", 
					assetManager.loadTexture(new TextureKey(folderName + "textures/" + texture + ".png", false)));
			g.setMaterial(mat);
		}
	}

	private void bindSkeleton() {
		if (skeleton == null) {
			Bone[] array = new Bone[bones.size()];
			skeleton = new Skeleton(bones.toArray(array));
			skeleton.setBindingPose();
		}
	}

	private boolean readLine() throws IOException {
		if (!scan.hasNextLine()) {
			finishMesh();
			finishAnimation();
			return false;
		}

		String[] args = scan.nextLine().split(" ");

		if (args[0].startsWith("#")) {
			//A one-line comment.
			return true;
		}
		if (args[0].equals("comment")) {
			//Everything until the EOF is comment.
			finishMesh();
			finishAnimation();
			return false;
		}

		switch (args[0]) {
		case "vp":
		case "vt":
		case "vn":
		case "vx":
		case "vb":
		case "vc":
		case "v0":
		case "v1":
		case "v2":
		case "v3":
		case "v4":
		case "v5":
		case "v6":
		case "v7":
		case "v8":
		case "v9":
			handleVector(args);
			break;
		case "vertextarray":
			//vertexarray entries are currently ignored
			break;
		case "mesh":
			finishMesh();
			finishAnimation();
			vectors = new HashMap<String,LinkedList<? extends Number>>();
			currentGeometry = new Geometry();
			if (args.length > 1) {
				String name = args[1];
				if (name.startsWith("\"")) {
					name = name.substring(1, name.length() - 1);
				}
				currentGeometry.setName(name);
			}
			geometries.add(currentGeometry);
			triangles = new LinkedList<Triangle>();
			break;
		case "material":
			if (args.length > 1) {
				if (currentGeometry == null) {
					throw new IOException ("Material specified without a mesh.");
				} else {
					String texture = args[1];
					if (texture.startsWith("\"")) {
						texture = texture.substring(1, texture.length() - 1);
					}
					currentGeometry.setUserData("IQEMaterial", texture);
				}
			}
			break;
		case "fa":
			throw new IOException("Absolute triangles (fa) are not supported, only relative triangles (fm).");
		case "fm":
			triangles.add(new Triangle(args[1], args[2], args[3]));
			break;
		case "smoothuv":
		case "smoothgroup":
		case "smoothangle":
		case "fs":
		case "vs":
			throw new IOException("Smoothing is not supported.");
		case "pq":
			finishMesh();
			if (args.length < 8) {
				throw new IOException("Pose entries (pq) must specify Tx Ty Tz Qx Qy Qz Qw exlicitly.");
			}
			if (currentAnim == null) {
				if (poseCount >= bones.size()) {
					throw new IOException ("Joints must be declared before bind poses.");
					//bones.add(new Bone());
				}
				Vector3f translation = new Vector3f(Float.parseFloat(args[1]), 
						Float.parseFloat(args[2]), 
						Float.parseFloat(args[3]));
				Quaternion rotation = new Quaternion(	Float.parseFloat(args[4]), 
						Float.parseFloat(args[5]), 
						Float.parseFloat(args[6]),
						Float.parseFloat(args[7]));
				Vector3f scale;
				if (args.length > 10) {
					scale = new Vector3f(	Float.parseFloat(args[8]), 
							Float.parseFloat(args[9]), 
							Float.parseFloat(args[10]));
				} else {
					scale = Vector3f.UNIT_XYZ;
				}
				bones.get(poseCount).setBindTransforms(translation, rotation, scale);
				poseCount++;
			} else {
				Vector3f translation = new Vector3f(Float.parseFloat(args[1]), 
						Float.parseFloat(args[2]), 
						Float.parseFloat(args[3]));
				translation.subtractLocal(bones.get(poseCount).getBindPosition());
				currentAnim.translations.get(poseCount).add(translation);
				Quaternion rotation = new Quaternion(	Float.parseFloat(args[4]), 
														Float.parseFloat(args[5]), 
														Float.parseFloat(args[6]),
														Float.parseFloat(args[7]));
				rotation = bones.get(poseCount).getBindRotation().inverse().mult(rotation);
				currentAnim.rotations.get(poseCount).add(rotation);
				Vector3f scale;
				if (args.length > 10) {
					scale = new Vector3f(	Float.parseFloat(args[8]), 
							Float.parseFloat(args[9]), 
							Float.parseFloat(args[10]));
					scale.divideLocal(bones.get(poseCount).getBindScale());
					currentAnim.scales.get(poseCount).add(scale);
				}
				poseCount++;
			}
			break;
		case "pm":
		case "pa":
			throw new IOException("Only pq pose entries supported. (pm and pa are not supported.)");
		case "joint":
			finishMesh();
			finishAnimation();
			if (jointCount >= bones.size()) {
				bones.add(new Bone(args[1]));
			}
			Bone bone = bones.get(jointCount);
			if (args.length > 2) {
				int parent = Integer.parseInt(args[2]);
				if (parent >= 0) {
					bones.get(parent).addChild(bone);
				}
			}
			jointCount++;
			break;
		case "animation":
			finishMesh();
			finishAnimation();
			bindSkeleton();
			currentAnim = new TempAnim();
			if (args.length > 1) {
				currentAnim.name = args[1];
			} else {
				currentAnim.name = "unnamed";
			}
			currentAnim.translations = new ArrayList<LinkedList<Vector3f>>(jointCount);
			currentAnim.rotations = new ArrayList<LinkedList<Quaternion>>(jointCount);
			currentAnim.scales = new ArrayList<LinkedList<Vector3f>>(jointCount);
			for (int i = 0; i < jointCount; i++) {
				currentAnim.translations.add(new LinkedList<Vector3f>());
				currentAnim.rotations.add(new LinkedList<Quaternion>());
				currentAnim.scales.add(new LinkedList<Vector3f>());
			}
			break;
		case "loop":
			//TODO: Currently ignored.
			break;
		case "framerate":
			if (currentAnim != null) {
				currentAnim.framerate = Float.parseFloat(args[1]);
			} else {
				throw new IOException ("framerate cannot be set when no animation is being defined.");
			}
			break;
		case "frame":
			poseCount = 0;
			break;
		}

		return true;
	}

	private void finishAnimation() {
		if (currentAnim != null) {
			int frames = currentAnim.translations.get(0).size();
			float length = (float)frames / currentAnim.framerate;
			float frameLength = 1f / currentAnim.framerate;
			Animation a = new Animation(currentAnim.name, length);
			float[] times = new float[frames];
			for (int i = 0; i < frames; i++) {
				times[i] = (float)i * frameLength;
			}
			Vector3f[] vArray1 = new Vector3f[frames];
			Quaternion[] qArray = new Quaternion[frames];
			for (int i = 0; i < jointCount; i++) {
				if (currentAnim.scales.get(i).size() == frames) {
					Vector3f[] vArray2 = new Vector3f[frames];
					a.addTrack(new BoneTrack(	i, 
												times, 
												currentAnim.translations.get(i).toArray(vArray1), 
												currentAnim.rotations.get(i).toArray(qArray), 
												currentAnim.scales.get(i).toArray(vArray2)));
				} else {
					a.addTrack(new BoneTrack(	i, 
							times, 
							currentAnim.translations.get(i).toArray(vArray1), 
							currentAnim.rotations.get(i).toArray(qArray)));
				}
			}
			animations.add(a);
	
			poseCount = 0;

			currentAnim = null;
		}
	}
	
	private void setBuffer (Mesh mesh, int componentsPerElement, String vectorType, VertexBuffer.Type... types) {
		int size;
		if (vectorType.equals("vbi")) {
			ByteBuffer byteBuffer = null;
			LinkedList<Byte> list = (LinkedList<Byte>)vectors.get(vectorType);
			size = list.size();
			Iterator<Byte> iter = list.iterator();
			byte[] src = new byte[size];
			for (int i = 0; i < size; i++) {
				src[i] = iter.next();
			}
			byteBuffer = BufferUtils.createByteBuffer(triangles.size() * 3 * componentsPerElement);
			for (Triangle t : triangles) {
				byteBuffer.put(src, t.v2 * componentsPerElement, componentsPerElement);
				byteBuffer.put(src, t.v1 * componentsPerElement, componentsPerElement);
				byteBuffer.put(src, t.v0 * componentsPerElement, componentsPerElement);
			}
			for (Type type : types) {
				mesh.setBuffer(type, componentsPerElement, byteBuffer);
			}
		} else {
			FloatBuffer floatBuffer = null;
			LinkedList<Float> list = (LinkedList<Float>)vectors.get(vectorType);
			size = list.size();
			Iterator<Float> iter = list.iterator();
			float[] src = new float[size];
			for (int i = 0; i < size; i++) {
				src[i] = iter.next();
			}
			floatBuffer = BufferUtils.createFloatBuffer(triangles.size() * 3 * componentsPerElement);
			
			for (Triangle t : triangles) {
				floatBuffer.put(src, t.v2 * componentsPerElement, componentsPerElement);
				floatBuffer.put(src, t.v1 * componentsPerElement, componentsPerElement);
				floatBuffer.put(src, t.v0 * componentsPerElement, componentsPerElement);
			}
			for (Type type : types) {
				mesh.setBuffer(type, componentsPerElement, floatBuffer);
			}
		}
	}

	private void finishMesh() {
		if (currentGeometry != null) {
			Mesh mesh = new Mesh();
			for (String vectorType : vectors.keySet()) {
				switch (vectorType) {
				case "vp":
					setBuffer(mesh, 3, vectorType, Type.BindPosePosition, Type.Position);
					break;
				case "vt":
					setBuffer(mesh, 2, vectorType, Type.TexCoord);
					break;
				case "vn":
					setBuffer(mesh, 3, vectorType, Type.BindPoseNormal, Type.Normal);
					break;
				case "vx":
					setBuffer(mesh, 4, vectorType, Type.BindPoseTangent, Type.Tangent);
					break;
				case "vbi":
					setBuffer(mesh, 4, vectorType, Type.BoneIndex, Type.HWBoneIndex);
					break;
				case "vbw":
					setBuffer(mesh, 4, vectorType, Type.BoneWeight, Type.HWBoneWeight);
					break;
				case "vc":
					setBuffer(mesh, 4, vectorType, Type.Color);
					break;
				case "v0":
				case "v1":
				case "v2":
				case "v3":
				case "v4":
				case "v5":
				case "v6":
				case "v7":
				case "v8":
				case "v9":
				default:
				}
				
				mesh.setMaxNumWeights(maxNumWeights);
				currentGeometry.setMesh(mesh);
			}

			maxNumWeights = 0;
			currentGeometry = null;
			triangles = null;
		}
	}

	private void handleVector(String[] args) throws IOException {
		switch (args[0]) {
		case "vp":
		case "vn":
			addVector(args, 3, 3);
			break;
		case "vt":
			addVector(args, 2, 3);
			break;
		case "vx":
			if (args.length < 5) {
				addVector(args, 4, 3);
			} else {
				throw new IOException("Only tangent vectors of the format <X,Y,Z,W> are supported.");
			}
		case "vb":
			LinkedList<Byte> listi = (LinkedList<Byte>)vectors.get("vbi");
			if (listi == null) {
				listi = new LinkedList<Byte>();
				vectors.put("vbi", listi);
			}
			LinkedList<Float> listw = (LinkedList<Float>)vectors.get("vbw");
			if (listw == null) {
				listw = new LinkedList<Float>();
				vectors.put("vbw", listw);
			}
			for (int i = 0; i < 4; i++) {
				if (args.length > i * 2 + 2) {
					float weight = Float.parseFloat(args[i * 2 + 2]);
					listi.add(Byte.parseByte(args[i * 2 + 1]));
					listw.add(weight);
					if (i + 1 > maxNumWeights && weight > 0f) {
						maxNumWeights = i + 1;
					}
				} else {
					listi.add((byte)0);
					listw.add(0f);
				}
			}
			break;
		case "vc":
			addVector(args, 3, 3);
			break;
		case "v0":
		case "v1":
		case "v2":
		case "v3":
		case "v4":
		case "v5":
		case "v6":
		case "v7":
		case "v8":
		case "v9":
		}
	}

	private void addVector (String[] args, int floatsPerVector, int oneAfter) {
		LinkedList<Float> list = (LinkedList<Float>)vectors.get(args[0]);
		if (list == null) {
			list = new LinkedList<Float>();
			vectors.put(args[0], list);
		}
		for (int i = 0; i < floatsPerVector; i++) {
			if (args.length > i + 1) {
				//list.add(Float.parseFloat(args[i + 1]));
				list.add(Float.parseFloat(args[i + 1]));
			} else {
				if (i <= oneAfter) {
					list.add(0f);
				} else {
					list.add(1f);
				}
			}
		}
	}

	private class TempAnim {
		String name;
		float framerate;
		ArrayList<LinkedList<Vector3f>> translations;
		ArrayList<LinkedList<Quaternion>> rotations;
		ArrayList<LinkedList<Vector3f>> scales;
	}
	
	private class Triangle {
		int v0, v1, v2;
		
		private Triangle (String a, String b, String c) {
			v0 = Integer.parseInt(a);
			v1 = Integer.parseInt(b);
			v2 = Integer.parseInt(c);
		}
	}
}