Hi,
I've just started experimenting with building for iOS, and ran into a problem with avian-openjdk out of the box.
I'm on OSX 10.11.4 with Xcode 7.3.
I installed the latest SDK, 3.1-pony (3.1-alpha4).
Created a new default project and checked it ran ok.
Went to Project Properties => Application => iOS, checked 'Enable iOS deployment' with 'iOS SDK Version' 9.3
I get the error below but nothing in the log, even at FINE.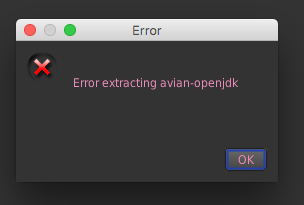 I can see that the avian-openjdk directory is created in "Application Support/jmonkeyplatform/3.1.0-alpha4, but it contains only one file, .zipextversion. If I delete avian-openjdk, then disable and re-enable the iOS build the same thing happens.
Any suggestions or attempts to reproduce would be much appreciated.