Hi !
I have an issue on OpenRTS with texture splatting. I would like to have transparency on the terrain (I admit, it's strange ! I can explain

)
here is a test case with a hand made alpha map and the resulting splatted texture :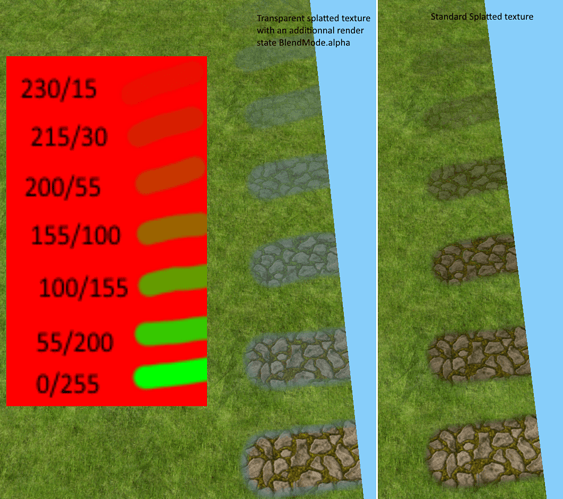 Note that only two diffuse maps are added to the terrain's material, so only the Red and Green channels ares used.
The second texture, splatted by the Green value of the alpha map, is a bit transparent unless it is maxed ! And even at the max value, the zone is surrounded by a transparent halo. We can see the bluish color of the ground throught it.
The terrain's material has an additionnal render state :
material.getAdditionalRenderState().setBlendMode(BlendMode.Alpha);

and the terrain's geometry has the transparent queue bucket :
 geometry.setQueueBucket(Bucket.Transparent);

Can't understand why… any idea?