Hi, my JMenuItem is not dissappearing when I click on the canvas.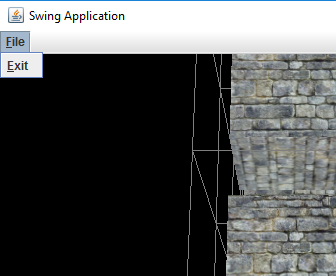 When I click on my menu bar (File) its menu items are displayed ok. The menu item doesn't go away as it should do after I click on the canvas. It does go away when I selected or when I click anywhere else e.g. window title, menu bar, outside of the app…
How to make it dissappear when canvas is clicked?
This is how the menu bar is implemented:
        JFrame mainWindow = new JFrame("Swing Application");
        
        JMenuBar menubar = new JMenuBar();
        JMenu file = new JMenu("File");
        JMenuItem eMenuItem = new JMenuItem("Exit");
        file.add(eMenuItem);
        menubar.add(file);
        
        mainWindow.add(menubar, BorderLayout.NORTH);
        mainWindow.pack();
        mainWindow.setSize(600, 600);
        mainWindow.setVisible(true);

        AppSettings appSettings = new AppSettings(true);
        appSettings.setWidth(640);
        appSettings.setHeight(480);
        appSettings.setVSync(true);

        CanvasMain canvasApplication = new CanvasMain();
        canvasApplication.setSettings(appSettings);
        canvasApplication.createCanvas(); // create canvas!
        JmeCanvasContext ctx = (JmeCanvasContext) canvasApplication.getContext();
        ctx.setSystemListener(canvasApplication);
        Dimension dim = new Dimension(640, 480);
        ctx.getCanvas().setPreferredSize(dim);
        mainWindow.add(ctx.getCanvas(), BorderLayout.CENTER);
        canvasApplication.setPauseOnLostFocus(false);
        canvasApplication.startCanvas();

Any help much appreciated!
Thanks
Peter