Hello. I have been working on my UI. I have just tried Nifty. But its not exactly what I'm going for. Then I ran into Lemur which fits what I'm going for much much more.
However, I cannot get containers to render over all other containers when clicked/dragged. Like a window.
The sorting is completely wrong.
And click events seem to be leaking through to containers behind the top on.
Am I missing something?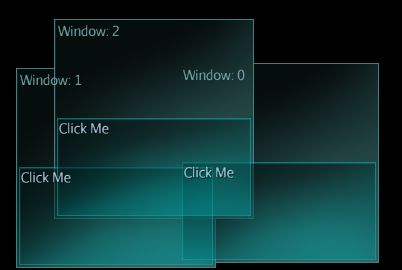 GuiGlobals.initialize(this);
//        BaseStyles.loadGlassStyle();
    BaseStyles.loadStyleResources("Interface/glass-style.groovy");
    GuiGlobals.getInstance().getStyles().setDefaultStyle("glass");

    for (int i = 0; i < 50; i++) {
        Container myWindow = new Container();
        myWindow.setPreferredSize(new Vector3f(200, 200, 0));
        CursorEventControl.addListenersToSpatial(myWindow, new DragHandler());
        guiNode.attachChild(myWindow);

        // Note: Lemur GUI elements grow down from the upper left corner.
        myWindow.setLocalTranslation(300, 300, 0);

        // Add some elements
        myWindow.addChild(new Label("Window: " + i));
        Button clickMe = myWindow.addChild(new Button("Click Me"));
        clickMe.addClickCommands(new Command<Button>() {
            @Override
            public void execute(Button source) {
                System.out.println("The world is yours.");
            }
        });
    }