Hello monkeys!
I am trying to make a menu with a grid of icons (for a ship building menu).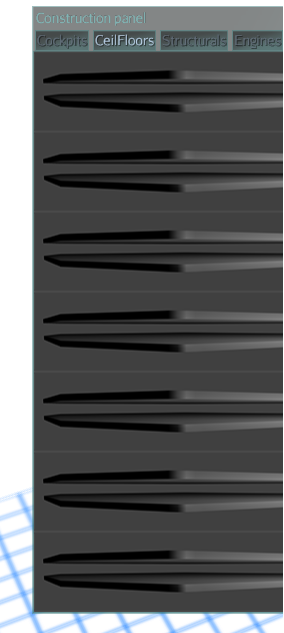 The above picture is me trying to make a 4 column x 3 line grid, but it only adds lines and two of my 9 items are not showing.
The icons are supposed to be 80x80 pixels but they take the size of the tabbed panel.
Here is my code, what can I do to add columns and choose my icon size?
 public static void Init(){
    
    window = new Container();  
    Jme.guiNode().attachChild(window);
    window.setLocalTranslation(0,(int)(Jme.getScreenHeight()/2),0);     
    //window.setPreferredSize(new Vector3f(Jme.getScreenWidth()/4, Jme.getScreenHeight()/2, 0));
    CursorEventControl.addListenersToSpatial(window, new DragHandler());
    window.addChild(new Label("Construction panel"));
    TabbedPanel tabs = window.addChild(new TabbedPanel("glass"));
    
    Container c = new Container();        
    tabs.addTab(ConstShipPart.PartTypes.cockpit, c); 
    addBuildItem(c, ConstShipPart.PartTypes.cockpit, ConstShipPart.Cockpits.SmallCockpit.name);
    
    c = new Container();
    tabs.addTab(ConstShipPart.PartTypes.ceilFloor, c);    
    addBuildItem(c, ConstShipPart.PartTypes.ceilFloor, ConstShipPart.CeilFloors.Block.name);
    addBuildItem(c, ConstShipPart.PartTypes.ceilFloor, ConstShipPart.CeilFloors.Corner.name);
    addBuildItem(c, ConstShipPart.PartTypes.ceilFloor, ConstShipPart.CeilFloors.HalfBlock.name);
    addBuildItem(c, ConstShipPart.PartTypes.ceilFloor, ConstShipPart.CeilFloors.HalfBlock.name);
    addBuildItem(c, ConstShipPart.PartTypes.ceilFloor, ConstShipPart.CeilFloors.HalfBlock.name);
    addBuildItem(c, ConstShipPart.PartTypes.ceilFloor, ConstShipPart.CeilFloors.HalfBlock.name);
    addBuildItem(c, ConstShipPart.PartTypes.ceilFloor, ConstShipPart.CeilFloors.HalfBlock.name);
    addBuildItem(c, ConstShipPart.PartTypes.ceilFloor, ConstShipPart.CeilFloors.HalfBlock.name);
    addBuildItem(c, ConstShipPart.PartTypes.ceilFloor, ConstShipPart.CeilFloors.HalfBlock.name);
    
    c = new Container();
    tabs.addTab(ConstShipPart.PartTypes.structural, c);
    addBuildItem(c, ConstShipPart.PartTypes.structural, ConstShipPart.Structurals.Wall.name);
    addBuildItem(c, ConstShipPart.PartTypes.structural, ConstShipPart.Structurals.HalfWall.name);
    
    c = new Container();
    tabs.addTab(ConstShipPart.PartTypes.engine, c);
    addBuildItem(c, ConstShipPart.PartTypes.engine, ConstShipPart.Engines.SmallEngineShielded.name);
    
    c = new Container();
    tabs.addTab(ConstShipPart.PartTypes.armor, c);
   
    
}  

public static void addBuildItem(Container c, String partType, String partName){        
    int nbElements = 0;
    Object o = c.getUserData("nbe");
    if(o != null)
        nbElements = (int)o;
    System.out.println("Nb elements = "+String.valueOf(nbElements));
    int lin = nbElements/maxCol;
    int col = nbElements%maxCol;
    System.out.println(partName+"  Col: "+String.valueOf(col)+" Line: "+String.valueOf(lin));
    Container frame;
    
    frame = c.addChild(new Container(), lin, col);        
             
    Texture t = Jme.assetManager().loadTexture(ConstShipPart.icon(partType, partName));                
    TbtQuadBackgroundComponent tbt = new TbtQuadBackgroundComponent(new TbtQuad(80, 80), t);
    frame.setBackground(tbt);                
    frame.setPreferredSize(new Vector3f(80,80,0));
    c.addChild(frame);
    c.setName(partName);
    addClickListener(frame, partType, partName);
    nbElements+=1;
    c.setUserData("nbe", nbElements);
}

p.s. I had to add user data to count the number of child containers because the included functions are dividing the real size by 2 (if I add 2 child containers I only get a size of 1 when doing a getChildren().size())