Thank you sgold for making it happen!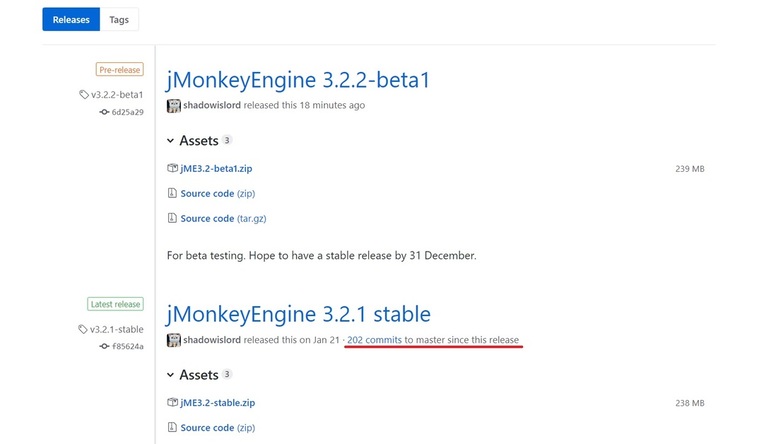 Anybody knows why commit count is missing in the 3.2.2 beta1 description?
They are automatically uploaded to bintray… just need to have the "Publish" button pushed. I've done that.
Maybe because the tag isn't on the master branch but the v3.2 branch and it doesn't make sense to count this between branches [as v3.2 WILL intentionally be behind master]?
In English, "since" means stuff that happens after some event. Since this was just now released, no commits have happened after it yet. So no commits after this release, ie: no commits since this release.
Thanks so much for this release @sgold
That's right, it says AppVeyor was unable to build non-mergeable pull request. I don't know what's causing this. I tried some workarounds that I found on some forums over the internet, like closing and re-opening the request or editing the file and commiting it again, but none of these worked. Can anyone help me with this?
You could try redoing the change and only changing the part that needs changing… instead of redoing imports, converting static * imports, etc… Perhaps it will merge easier if there is less to merge (and anyway it's a good practice anyone to only change what you are actually changing.)
Edit: yeah, looking at it in the conflict tool it seems like all of the merge conflicts are related to the things that were changed that didn't even need changing.
It looks like that was something my IDE (Eclipse) did to me. Anyway, I changed now only what's really important and the AppVeyor message persists.
Yes, because the commits aren't flattened or anything… so you get the original big commits that have merge conflicts and then your commit that undoes that commit.
There should be a way to flatten the PR, I guess. I've never done it.
Generally, we would rather merge flattened PRs, though. If you can please figure out how to flatten it then we are more likely to merge it.
I mean, you may be right about that setting but it doesn't change the fact that we'd rather not merge PRs that are many commits, some of which are just undoing the other ones… it makes the history look really strange.
In Github, you can just select "stash and merge" from the merge button drop-down, that's what flattens the PRs.
Not sure how easy fba can flatten them on his own, probably involves force pushing the branch or rather simply open a new branch/pr with the changes.
But the first method doesn't work here due to merge conflicts unfortunately
I thought there was a way for contributors to flatten their own PRs… if not then that's dumb and I wonder how others were able to do it.
Anyway, I guess closing the PR and making a new one is the only option in the shitty git software.
Certainly not the only version but always the most simple one
I closed the problematic PR and opened a new one, now everything is okay. The new PR is #980.
I'm back online after a 5-day absence.
I hope people have begun testing the beta1 release. I'll begin testing tonight, but I'm not equipped to test on Linux, OSX, or Android platforms. I'd appreciate some help.
Regarding PR 980, I'm curious: how long has the issue existed in jMonkeyEngine?
Pretty sure that 980 is lwjgl3 specific… so "not long" in the geologic sense but also probably doesn't affect many people one way or the other yet since extra steps are required to use lwjgl3 "out of the box"
I've been running my project in Win & Linux without any hiccups. LWJGL 3.