A lot of the time when users create games they often create their own "editors" to suit their needs. These can range from ParticleEmitter editors, Terrain editors, Debuggers, Vehicle creators, physics editors (e.g. minie has one or two), Model importers, Material editors, etc.
My idea is based on a plugin system that runs from within a JME application. Users can create plugins that are loaded on startup - and they provide the various tools. This way - instead of having multiple different apps - we have multiple different plugins in a single app. In addition we can provide a central "repository" of sorts to automatically download these plugins.
I have just recently finished the primary functions of the plugin system. Plugins can have dependencies to other plugins, or soft depend on plugins (if exists do this, else this function is not available, or whatever). Plugins can also have the "visible" flag set as false so they don't appear in the list (e.g. just a dependency plugin). Although I'm sure contributions would be very welcome in this area - this is not the issue. I'm fine developing the plugins system right now.
My issue is how to implement the plugin system effectively. Let me first say that my ideas hereafter are more "thinking out loud" than "this is how it's going to happen". I am not a UI/UX guru.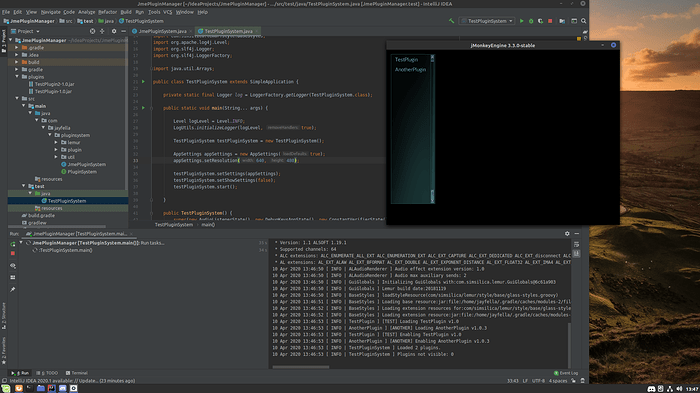 So the first port of discussion is how this is going to work. My thoughts are that each plugin is "activated" individually. Only one plugin can be active at a time (although as previously mentioned - you can depend on other plugins to use their functionality). My thoughts on this are that activating more than one plugin at a time will cause serious potential issues. If one plugin is enabled and displays a GUI - another plugin may overlay that GUI and make a big mess. Each plugin should/can also contain its state - so when it's selected again it can resume that state.
I'd also like to implement some sort of command console system where you could "slash command" things in your plugin - or even select a plugin with a slash command, issue debug commands, etc. I think it sounds like a nice option to have. You could even have a plugin that has the "visible" flag as false that solely just provides some cool commands like move "mySpatial" x,y,z or whatever.
If we look at the picture above, there is a plugins ListBox<Plugin>. I chose the Lemur GUI framework solely because java-fx requires specific java versions - JME and Lemur do not, so we can run on any java version supported by the engine and avoid the whole JFX8/11/12/13/14/etc issue - as well as any cross-platform problems that may already exist when deploying java-fx.
The ListBox takes up all of the left side of the scene. I don't like that. Maybe a menu would serve better? But this means 2 clicks to change select another plugin. And maybe even some scrolling if you have a lot of plugins. Maybe a "toolbox" type setup like photoshop where there's a load of buttons you can just click would be better? I really don't know. This is the part I'd really like some help with. You'd still have to scroll if your plugin count was very large, but it still seems like a better idea, although it still occupies the left side of the scene exclusively.
How do you feel the UI should be implemented? What are your feelings about the plugin system? Do you have any opinions on any additional functionalities?