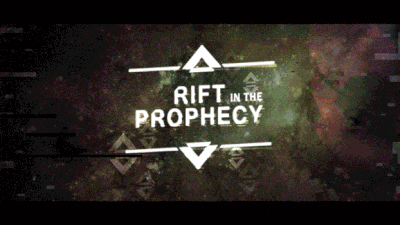 Rift In the Prophecy, tactical MmoRpg
–THIS PROJECT IS CLOSED–
Thanks everyone for your time

Hello everyone, my name is Simon Bédard, and this is R.I.P, an tactical MMORPG set in a Fantastic/futuristic universe and running on JME.
0.0 Demo :   
1.0 Configuration and tools :
2.0 Story : 	
3.0 Game play :	
4.0 Art Style :	
5.0 The plan :
6.0 The team :
6.1 How jump in :
7.0 Some extra :

---
0.0 Demo
---
1.0 Configuration and tools:
Engine       :  -JME3
Versioning   :  -BitBucket, -SourceTree
IDE          :  -Eclipse Luna 
Database     :  -ObjectDB
Networking   :  -TCP -UDP -Kryo
3D tools     :  -Open
Data Sharing :  -Google Drive.  
Management   :  -Agile, -Trello

---
2.0 Story:
Rip is about a colonial mission that started in 2025, 5 years after a huge rift appears out of nowhere in the solar system, not so far from earth. This rift gave acess to a faraway part of the universe, leading directly to a colonizable planet called new Eden. The colonization project had been doing great for 25 years, until the rift close itself for no apparent reason, leaving the planet isolated from earth.
The environment also became hostile: monster from all shapes and size start appearing everywhere, and attacked the inhabitant of this new home. Without a solid government organization nor any solid defense plan, the population was taken by panic, and chaos ensue as a civil war start raging for the control over the planet.
You are playing 2 years after those events, in a golden age for mercenaries and private defense corporation. You are a human born on this planet. As every other kid born here, you presents some unusual power and magic ability.
At the beginning of the adventure, you are a conscript into the newly formed local militia, but after a mission that kill everyone on the team but you, you are consider as dead and on your own, deciding to work as a mercenary. You must try to survive and defend the colony, while also try to understand what the hell is going on, as the answers about the rift seem to be hidden on the planet.
---
3.0 Game play:
As stated earlier, RIP in a Tactical MMORPG that plays somewhat like Dofus, Wakfu or XCom. This means you can move around in the open world pretty freely, but when you get into combat mode, the game turn into a turn base strategy game. You can control up to 4 characters in one team, 2 main and 2 mercenary.
You will have 3 main stats (other than Life point and elementals stats): AP (action point), MP (movement point) and EP (energy point).
AP refurnishing at full capacity between each turn, but MP and EP will only slowly replenish themselves, depending on your stats and items. The combats will either be fast and violent, or slow and exhausting, meaning you will have to balance pure power and endurance between the different dungeons and PVP combats.
We also want to have a solid feeling of aggression, like if the planet was trying to kill you. This is why, we also want to add things like colony attack, where the players would have lan hour to group and defend a position. If they fail, that colony and its resources would be destroyed and if they succeed, they would win some money and items.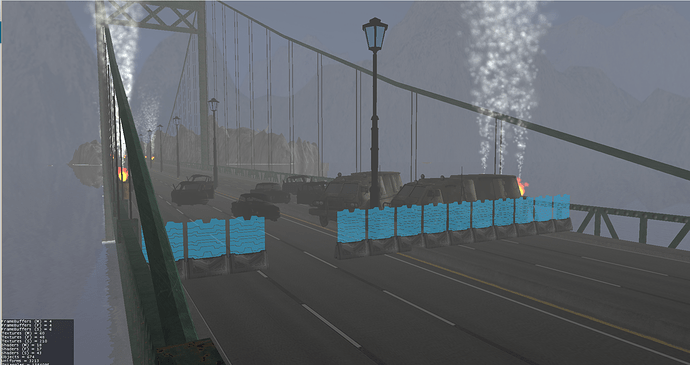 ---
4.0 Art Style:
The universe is somewhere between Fallout and Skyrim: a desolated world whit some oasis of civilization, with magcal ruins and strange people on the road. We had in mind something a bit cartoony, to contrast the dark thematic of the game, as we don't want a grim world, but to tell a beautiful story in a sad reality.
So a bullet in the head should always be an option, but so should be good sword in the heart, or a powerful burning spell, and we want to offer those option to the player as much as possible, and make them look good and funny if possible.
Here is some concept art of the game :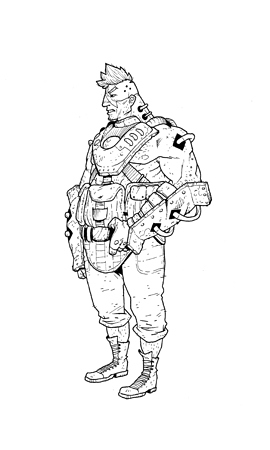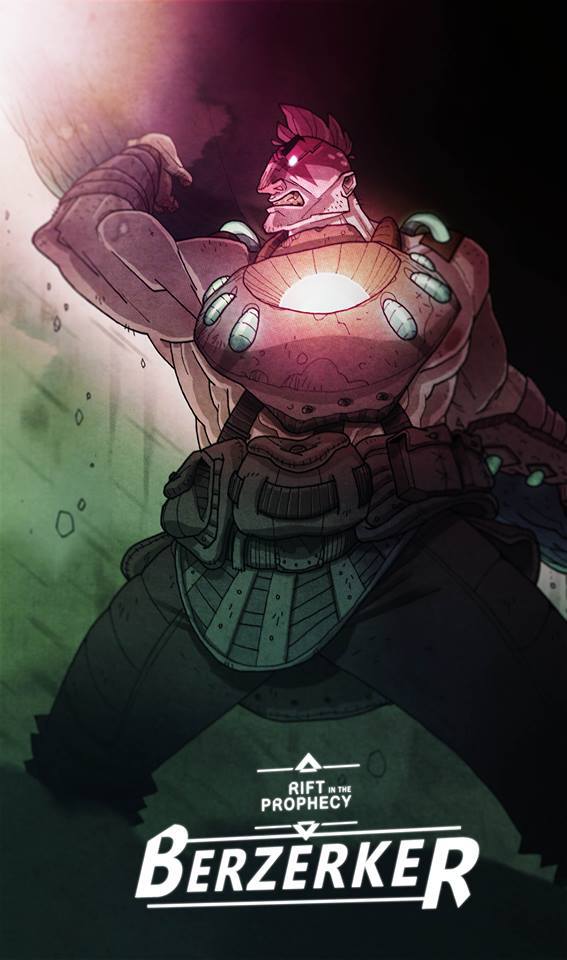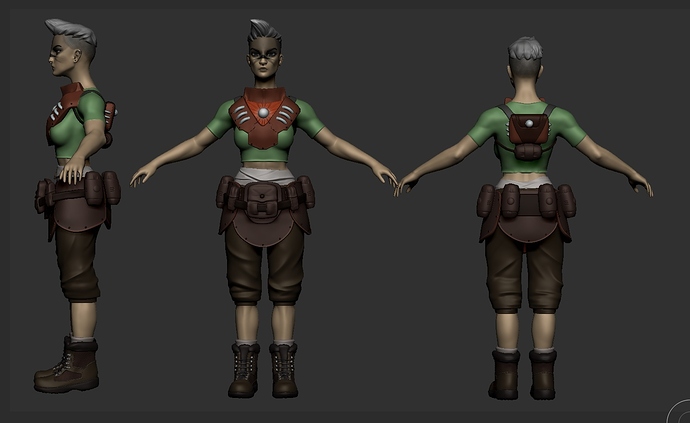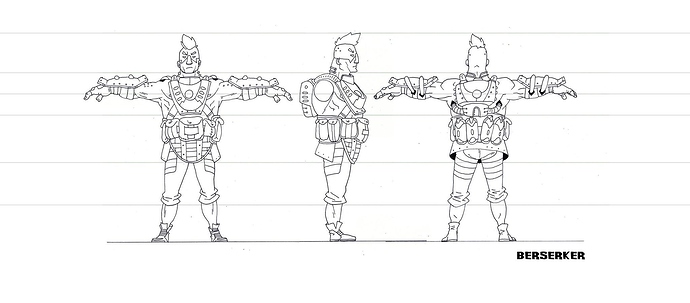 ---
5.0 The plan
So far, this project have been an amateur project, meaning no stress, no definitive agendas and no money. We take your time, and make sure each piece hit some high quality standards. It takes time, but pretty much anyone can do it: You only need passion and effort

We have been mostly students that want to prefect their art, build a Cv and learn, but any hobbits is welcome.
Ultimately the goal is to do solid demo and a Kickstarter, get the funds required and start paying people who want to make this a full time job. This is not a promise, this is an objective, and even though we all work really hard to see it happen, the Kickstarter could fail. In that case, the project would go open source, and we will withdraw any of your contribution if you want to keep them for yourself, as no matter what, it would still be rightfully yours.
So best case scenario the game hit Kick-starter and become something huge. It could then become a job or stay a hobby as you wish.
And worst case scenarios the project fails after a couple of years, goes open source so you can still work on it if you wish. Everyone has learnt tone of stuff, had fun and keeps the assets and bits of code they did if they want to. Plus, this kind of project is always good looking at a CV. Pretty much got my job cause of this.
---
6.0 The team:
Recruting right now : Java programmers, Rigger/animator, painter.
    **Name**                          **Formation**                   **Language spoke**
 
 Simon Bédard        |||   Project manager, programmer           |||   Francais/English
	
 Romain Aubry        |||   Game designer                         |||   Francais/English
	
 Cédric Roméo        |||   Game designer                         |||   Francais/English
	
 John Will           |||   Sound Artist                          |||   Francais/English
	
 Francisca Lampron   |||   2D Artist/Interfaces                  |||   Francais/English
	
 Carl Tétreault      |||   2D Artist/concept                     |||   Francais/English

 José David          |||   3D Artist                             |||   English

Has done work but not active anymore
 Clément Goût        |||   2D Artist                             |||   Francais

---
6.1 How jump in:
If you want to take part on the project, you need a solid motivation and some basic to advance knowledge in your field. Usually a university level is enough, but I always prefer to see some past work.
As this is a part-time project, I consider that 3 hours a week is a healthy minimum, both for you and the project. But due to some problems we had in the past, I now require a first draft of your first assignment to be done with-in the first month. From what I have seen, someone unable to do that usually just lack the maturity/motivation/skills for this sort of project.
So if you want to jump in, contact me on this forum whit a personal message or on my Email address JavaKhanStudio@Gmail.com. Give some of your background, what interest you on the project, and we will set up a Skype conversation to settle everything up.
---
7.0 Some extra
Here one of the music track for the game, produced by Will and the back group by Clement :
You can find every track here :
Rift In the Prophecy : Track 00 - Intro - YouTube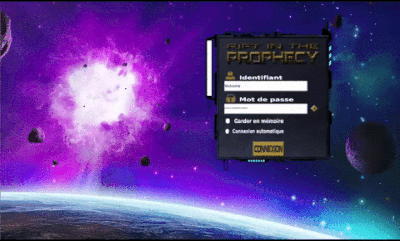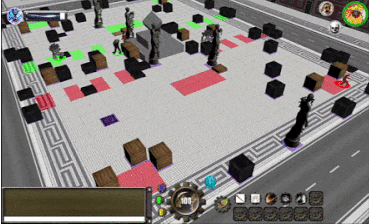 Some Texture fun!