Hello everyone

We are currently developing a 3D-Survival game where the player spawns on a randomly created island and has to survive as long as possible. The game uses the Low-Poly style, for that we wrote our own terrain generator in order to achieve the low-poly look.
Unfortunately, we ran into a performance problem: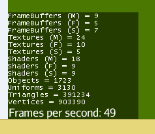 The snap was taken from our game, while running in full-screen mode (1920 x 1080), on my Ultrabook, Asus-Zenbook Ux303lb with a Nvidia Geforce 940M, 8GB RAM, Intel i7-5500U 2.4GHz.
We have way too many vertices (maximum number we measured was about 1 Mio ! ).
Consequently, we started to optimize our terrain, by splitting it into tiles and only loading tiles the player can see. We hope to get some performance boost from that, but there´s another problem.
Our island is populated with lots of objects like trees, rocks, animals, etc., therefore there are many objects in the scene graph (which is very bad, isn´t it ? ). So we thought about a way to optimize our scene-graph and only attach objects which are near the player.
So the question rises: Is this the way to go, or are there other optimizations we can make on our scene-graph or terrain, in order to enhance perfomance? Especially for low-poly terrain, which contains more vertices.
Thanks in advance