I have a shader using dFdx and dFdy to produce pseudo anti-aliasing. This is necessary because the shader draws curved edges which are not effected by hardware anti-aliasing methods. While this looks great when hardware anti-aliasing, settings.setSamples(1), is turned off, it produces artifacts when hardware anti-aliasing is turned on and I'm not sure why.
settings.setSamples(1):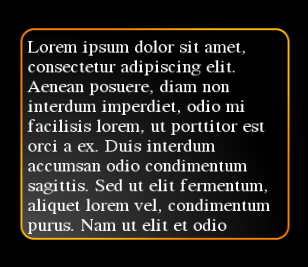 settings.setSamples(8)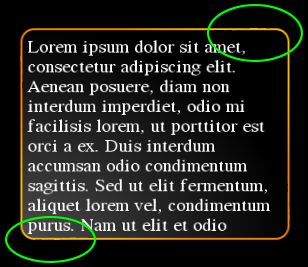 Any thoughts? I tried padding the mesh with extra space around the edges and just discarding those pixels, but that didn't make any difference.
Fragment shader:
#ifdef USEAA
    #ifdef ISMOBILE
        #extension GL_OES_standard_derivatives:enable
    #endif
#endif

uniform vec4 m_brdr1;
uniform vec4 m_brdr2;
uniform vec4 m_brdr3;
uniform vec4 m_brdr4;

uniform float m_brdrstp1;
uniform float m_brdrstp2;
uniform float m_brdrstp3;
uniform float m_brdrstp4;

uniform float m_Radius;

uniform vec4 m_col1;
uniform vec4 m_col2;
uniform vec4 m_col3;
uniform vec4 m_col4;
uniform vec4 m_col5;
uniform vec4 m_col6;
uniform vec4 m_col7;
uniform vec4 m_col8;

uniform float m_stop1;
uniform float m_stop2;
uniform float m_stop3;
uniform float m_stop4;
uniform float m_stop5;
uniform float m_stop6;
uniform float m_stop7;
uniform float m_stop8;

uniform float m_Alpha;
uniform bool m_useAA;
uniform bool m_isCircle;

varying vec2 texCoord;
varying vec2 texCoord2;
varying vec2 borderCoord;

#ifdef USEAA
    float AA(in float r) {
        vec2 px = vec2(dFdx(texCoord.x), dFdx(texCoord.y));
        vec2 py = vec2(dFdy(texCoord.x), dFdy(texCoord.y));
        float fx = (2*texCoord.x)*px.x - px.y;
        float fy = (2*texCoord.y)*py.x - py.y;
        float sd = r/sqrt(fx*fx + fy*fy);
        
        return clamp(0.25 + sd, 0.0, 1.0);
    }
#endif

void fadeColor(inout vec4 color, in vec4 color2, in float percent) {
    color *= percent;
    color += color2 * (1.0 - percent);
}

vec4 panelColor(inout vec4 color) {
    color = m_col1;
    
    float perc = clamp((m_stop1 - texCoord2.y) / min(m_stop1 - m_stop2, -0.00001), 0.0, 1.0);
    fadeColor(color, m_col2, 1.0 - perc);
    
    #ifdef HAS_COL3
        perc = clamp((m_stop2 - texCoord2.y) / min(m_stop2 - m_stop3, -0.00001), 0.0, 1.0);
        fadeColor(color, m_col3, 1.0 - perc);
    #endif
    
    #ifdef HAS_COL4
        perc = clamp((m_stop3 - texCoord2.y) / min(m_stop3 - m_stop4, -0.00001), 0.0, 1.0);
        fadeColor(color, m_col4, 1.0 - perc);
    #endif
    
    #ifdef HAS_COL5
        perc = clamp((m_stop4 - texCoord2.y) / min(m_stop4 - m_stop5, -0.00001), 0.0, 1.0);
        fadeColor(color, m_col5, 1.0 - perc);
    #endif
    
    #ifdef HAS_COL6
        perc = clamp((m_stop5 - texCoord2.y) / min(m_stop5 - m_stop6, -0.00001), 0.0, 1.0);
        fadeColor(color, m_col6, 1.0 - perc);
    #endif
    
    #ifdef HAS_COL7
        perc = clamp((m_stop6 - texCoord2.y) / min(m_stop6 - m_stop7, -0.00001), 0.0, 1.0);
        fadeColor(color, m_col7, 1.0 - perc);
    #endif
    
    #ifdef HAS_COL8
        perc = clamp((m_stop7 - texCoord2.y) / min(m_stop7 - m_stop8, -0.00001), 0.0, 1.0);
        fadeColor(color, m_col8, 1.0 - perc);
    #endif
    
    return color;
}

vec4 radialPanelColor(inout vec4 color) {
    color = m_col1;
    float r = sqrt((texCoord2.x*texCoord2.x) + (texCoord2.y*texCoord2.y));
    
    float perc = clamp((r - m_stop1) / max(m_stop2 - m_stop1, 0.00001), 0.0, 1.0);
    fadeColor(color, m_col2, 1.0 - perc);
    
    #ifdef HAS_COL3
        perc = clamp((r - m_stop2) / max(m_stop3 - m_stop2, 0.00001), 0.0, 1.0);
        fadeColor(color, m_col3, 1.0 - perc);
    #endif
    
    #ifdef HAS_COL4
        perc = clamp((r - m_stop3) / max(m_stop4 - m_stop3, 0.00001), 0.0, 1.0);
        fadeColor(color, m_col4, 1.0 - perc);
    #endif
    
    #ifdef HAS_COL5
        perc = clamp((r - m_stop4) / max(m_stop5 - m_stop4, 0.00001), 0.0, 1.0);
        fadeColor(color, m_col5, 1.0 - perc);
    #endif
    
    #ifdef HAS_COL6
        perc = clamp((r - m_stop5) / max(m_stop6 - m_stop5, 0.00001), 0.0, 1.0);
        fadeColor(color, m_col6, 1.0 - perc);
    #endif
    
    #ifdef HAS_COL7
        perc = clamp((r - m_stop6) / max(m_stop7 - m_stop6, 0.00001), 0.0, 1.0);
        fadeColor(color, m_col7, 1.0 - perc);
    #endif
    
    #ifdef HAS_COL8
        perc = clamp((r - m_stop7) / max(m_stop8 - m_stop7, 0.00001), 0.0, 1.0);
        fadeColor(color, m_col8, 1.0 - perc);
    #endif
    
    return color;
}

void border(inout vec4 color) {
    color = m_brdr1;
    #ifdef HAS_BRDR2
        float perc = clamp((m_brdrstp1 - borderCoord.y) / min(m_brdrstp1 - m_brdrstp2, -0.00001), 0.0, 1.0);
        fadeColor(color, m_brdr2, 1.0 - perc);
        
        #ifdef HAS_BRDR3
            perc = clamp((m_brdrstp2 - borderCoord.y) / min(m_brdrstp2 - m_brdrstp3, -0.00001), 0.0, 1.0);
            fadeColor(color, m_brdr3, 1.0 - perc);
        #endif

        #ifdef HAS_BRDR4
            perc = clamp((m_brdrstp3 - borderCoord.y) / min(m_brdrstp3 - m_brdrstp4, -0.00001), 0.0, 1.0);
            fadeColor(color, m_brdr4, 1.0 - perc);
        #endif
    #endif
}

void roundedBorder(inout vec4 color, inout float alpha) {
    float c = sqrt((texCoord.x*texCoord.x) + (texCoord.y*texCoord.y));
    float r = 1.0 - c;
    #ifdef USEAA
        alpha *= AA(r);
    #else
        alpha = step(0.0001, r);
    #endif

    float f = 1.0 - (c * (1.0 / max(m_Radius, 0.00001)));
    #ifdef USEAA
        f = AA(f);
    #else
        f = step(0.0001, f);
    #endif
    
    border(color);

    #ifdef HAS_COLFADE
        vec4 pCol = vec4(0);
        #ifdef IS_CIRCLE
            fadeColor(color, radialPanelColor(pCol), 1.0 - f);
        #else
            fadeColor(color, panelColor(pCol), 1.0 - f);
        #endif
    #else
        fadeColor(color, m_col1, 1.0 - f);
    #endif
}

void main() {
    float alpha = m_Alpha;
    vec4 col = vec4(0);
    
    if (texCoord.x < 2.0) {
        #ifdef HAS_BORDER
            #ifdef IS_ROUNDED
                roundedBorder(col, alpha);
            #else
                border(col);
            #endif
        #else
            #ifdef IS_ROUNDED
                float c = sqrt((texCoord.x*texCoord.x) + (texCoord.y*texCoord.y));
                float r = 1.0 - c;
                #ifdef USEAA
                    alpha *= AA(r);
                #else
                    alpha = step(0.0001, r);
                #endif
                #ifdef HAS_COLFADE
                    #ifdef IS_CIRCLE
                        radialPanelColor(col);
                    #else
                        panelColor(col);
                    #endif
                #else
                    col = m_col1;
                #endif
            #else
                alpha = 0.0;
            #endif
        #endif
    } else {
        #ifdef HAS_COLFADE
            #ifdef IS_CIRCLE
                radialPanelColor(col);
            #else
                panelColor(col);
            #endif
        #else
            col = m_col1;
        #endif
    }
    
    if (alpha <= 0.0) {
        discard;
    } else {
        gl_FragColor = vec4(col.rgb, alpha * col.a); 
    }
}