NEW
UPLOAD MY PROJECT ON GIT:AsePlugin
Developed with Eclipse 4.3 & JME SDK 3.0
Hi, I'm new to jme. These days I'm learning jme by re-develop an old C++ MMORPG.
Now I'm learning how to manage assets. The game, which I want to re-develop with jme, use 3dmax ASE models, so I write a AssetLoader (I called it AseLoader) to analysis ASE model files and import its model.
In most time the AseLoader works fine, while something wired happened after i import to Monster Model. They suppose to stand straight but … :chimpanzee_lobotized: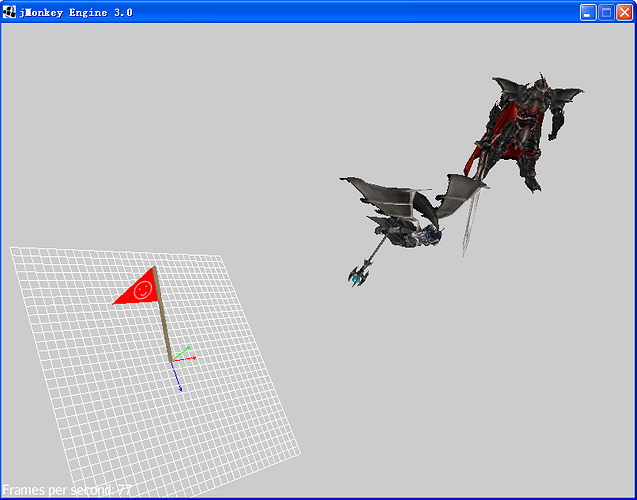 Your see the axis at left-buttom corner? I made a axis and a flag as objects of reference, the flag is all right but the axis was crooked…

For someother model, the AseLoader works just fine.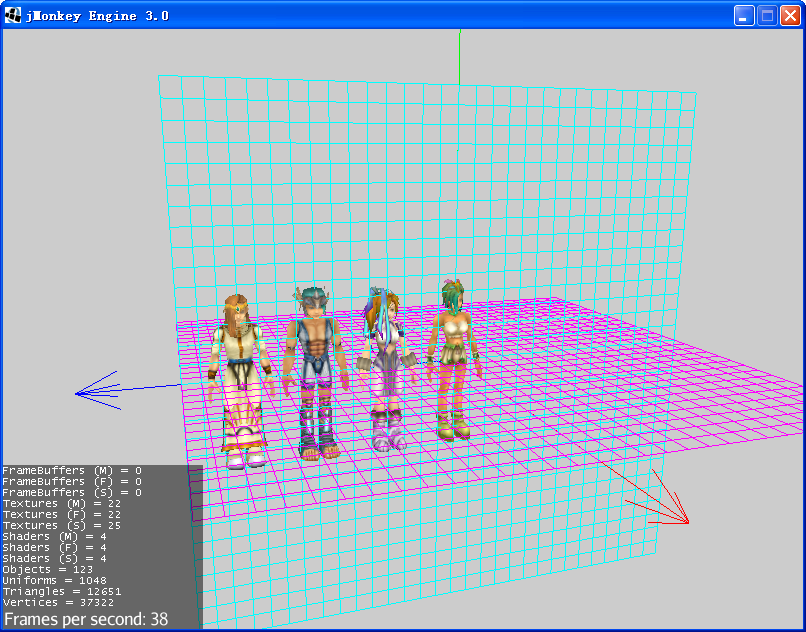 It also works just fine for world model.(GUI made with @toneg0d gui lib)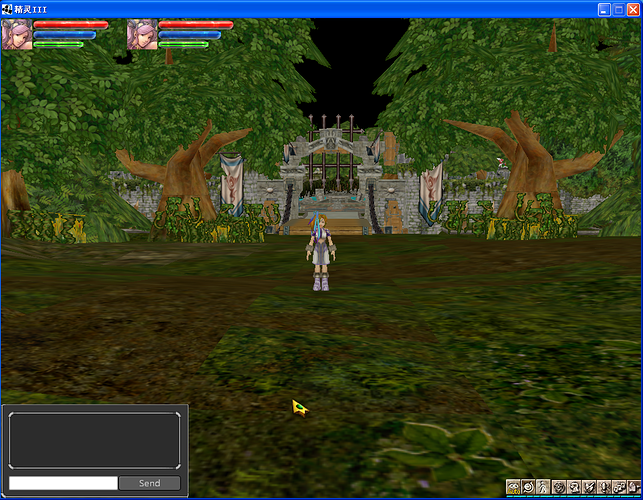 My code for TestLoadMonster, I will paste the code of my AseLoader after this topic
    @Override
    public void simpleInitApp() {
        this.setPauseOnLostFocus(false);

        cam.setLocation(new Vector3f(100, 80, 100));
        cam.lookAt(Vector3f.ZERO, cam.getUp());
        this.flyCam.setMoveSpeed(100f);

        assetManager.registerLoader(AseLoader.class, "ase");

        if (new File("D:/Priston Tale/0_素材/Client").isDirectory()) {
            assetManager.registerLocator("D:/Priston Tale/0_素材/Client",
                    FileLocator.class);
        }
        if (new File("F:/1_DEVELOP/3_素材").isDirectory()) {
            assetManager.registerLocator("F:/1_DEVELOP/3_素材", FileLocator.class);
        }

        Spatial flag = assetManager.loadAsset(new AseKey("char/Flag/wow.ASE"));
        rootNode.attachChild(flag);

        Spatial anim = assetManager.loadAsset(new AseKey("data/model/animtest.ase"));
        anim.scale(0.1f);
        rootNode.attachChild(anim);

        Spatial rot = assetManager.loadAsset(new AseKey("data/model/rottest.ase"));
        rot.scale(0.1f);
        rot.move(0, 0, 30);
        rootNode.attachChild(rot);

        Spatial death_knight = assetManager.loadAsset(new AseKey("char/monster/death_knight/death_knight.ASE"));
        death_knight.move(0, 0, 300);
        rootNode.attachChild(death_knight);

        Spatial chaoscara = assetManager.loadAsset(new AseKey("char/monster/chaoscara/chaoscara.ASE"));
        chaoscara.move(0, 0, 150);
        rootNode.attachChild(chaoscara);
        
//        debugSke(death_knight);

        initAmbient();
        initKeys();
        initCrossHairs();

        viewPort.setBackgroundColor(ColorRGBA.LightGray);

        showNodeAxes(15);

    }

    private void initAmbient() {
        AmbientLight light = new AmbientLight();
        light.setColor(ColorRGBA.White);
        rootNode.addLight(light);
    }

    public void showNodeAxes(float axisLen) {
        Mesh mesh = new Grid(31, 31, 3.93701f);
        Geometry grid = new Geometry("Axis", mesh);
        Material gm = new Material(assetManager,
                "Common/MatDefs/Misc/Unshaded.j3md");
        gm.setColor("Color", ColorRGBA.White);
        gm.getAdditionalRenderState().setWireframe(true);
        grid.setMaterial(gm);
        grid.center().move(0, -0.1f, 0);

        rootNode.attachChild(grid);

        //
        Vector3f v = new Vector3f(axisLen, 0, 0);
        Arrow a = new Arrow(v);
        Material mat = new Material(assetManager,
                "Common/MatDefs/Misc/Unshaded.j3md");
        mat.setColor("Color", ColorRGBA.Red);
        Geometry geom = new Geometry(rootNode.getName() + "XAxis", a);
        geom.setMaterial(mat);
        rootNode.attachChild(geom);

        //
        v = new Vector3f(0, axisLen, 0);
        a = new Arrow(v);
        mat = new Material(assetManager, "Common/MatDefs/Misc/Unshaded.j3md");
        mat.setColor("Color", ColorRGBA.Green);
        geom = new Geometry(rootNode.getName() + "YAxis", a);
        geom.setMaterial(mat);
        rootNode.attachChild(geom);

        //
        v = new Vector3f(0, 0, axisLen);
        a = new Arrow(v);
        mat = new Material(assetManager, "Common/MatDefs/Misc/Unshaded.j3md");
        mat.setColor("Color", ColorRGBA.Blue);
        geom = new Geometry(rootNode.getName() + "ZAxis", a);
        geom.setMaterial(mat);
        rootNode.attachChild(geom);
    }