I have a game i've been working on for 3 years. It is an old 1980's game that I'm remaking called "Alternate Reality" and about a year ago I started to think i would like to use an engine instead of keep doing my own engine. I have the game 95% completed in my own engine. Or at least the 1st module. The game had 2 modules released.
The game was released on an 8bit Atari machine, and then was release on a 16bit (Atari, Amiga) and then the 8-bit Dungeon came out (2nd module). So I've spent time recreating the game to play like the original and through settings you have options to play a more enhanced version.
When I decided to look at an engine, I ended up liking JME and I did a small test case and it worked out. My game is in a 3d world but basically 2d quads every where. More like Doom, even though this game was before Doom by years.
So I created a TimePilot 2d game, but in a 3D world using Quads for the graphics and it worked out great.
So Now, I started working on converting my game to JME, and I"m about 90% complete converting it. I finally got it up under JME and was blow away.
The Frame rate was 15FPS.
So I then just started a simple test project and all it is a 64x64 grid based map with Quads. Only about 30 different textures and 30 different materials. I use the same material over and over since so many walls are the same texture.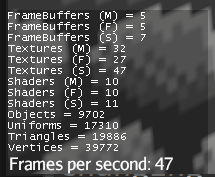 Here is the Debug window showing objects and everything. As you can see it is a very small foot print, but the engine can't do 60fps (I have a very good laptop, my own engine could handle it).
So I'm thinking I'm doing something wrong, because I have a hard time believing JME would slow down on less than 10k objects, 20k triangles.
So I'm thinking that I did something wrong.
This test model is so simple, it is your basic SimpleApplication. I load the map and process the 64x64 grid to create Quads using about 30 different materials (using the same material over and over) to create North, South, West, East, Ceilings and floor walls.
I assign these walls to 4 different Nodes for handling like Floor, ceiling, secret Door, doors and walls and assign those to one Node that wraps the entire map into one parent.
Then I attach the main Node to rootNode.
That is all my test case does, no AppStates, no Controls. Just this Quads being displayed.
The FPS keeps ranging from 25 - 50fps sometime it hits 60fps.
I would like to see if anyone has an idea what to look at. I know I didn't add any source code so it is impossible to see any real issues, but wanted to see if anyone experienced any issues like this and have any ideas.
Here is a picture of the test app I created, it doesn't even have character movement or betterCharacter stuff active, just your default FlyCamera, so I'm above the city look out.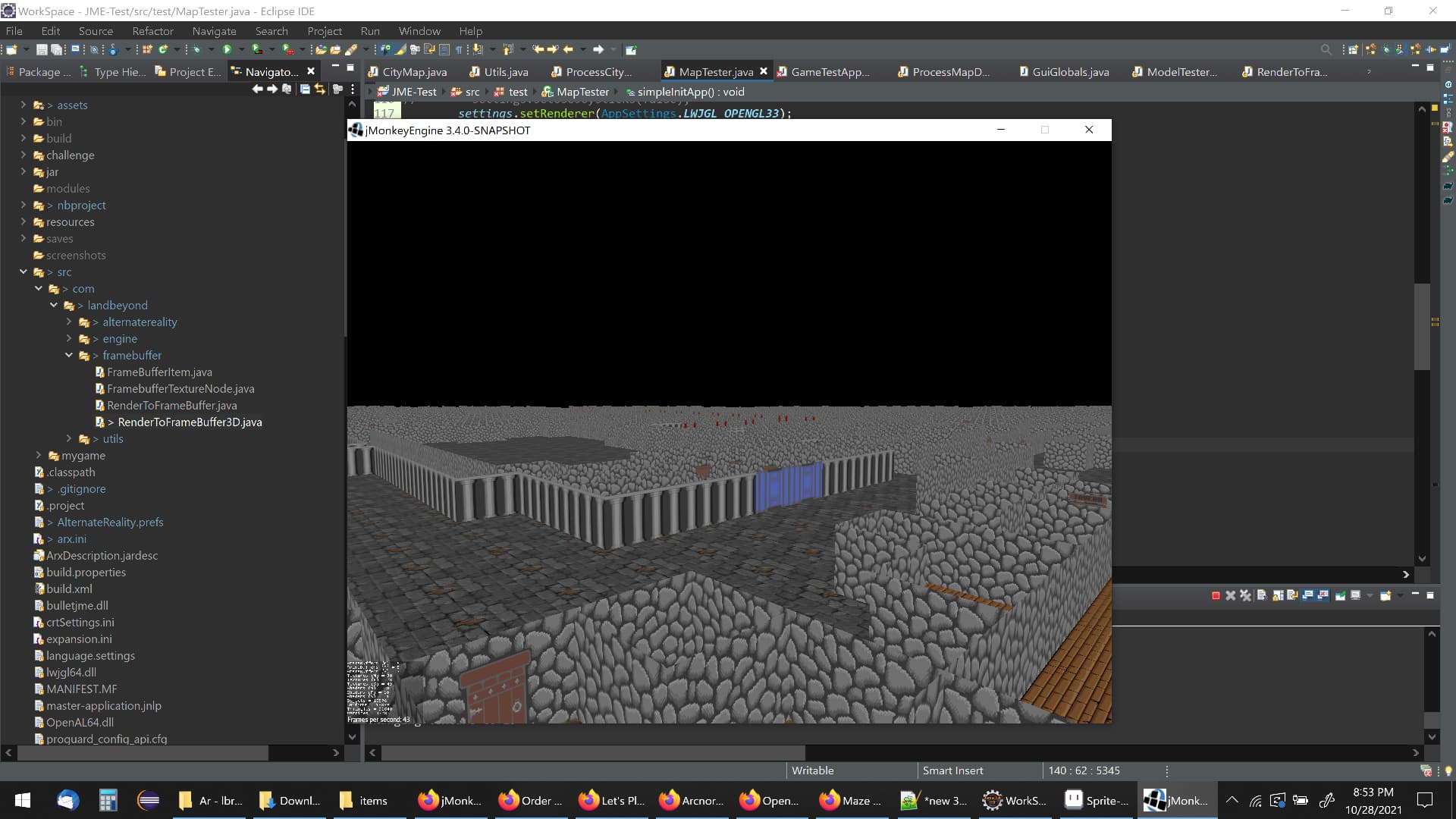 Thanks