I'm trying to make a hot bar like in minecraft and I'm having trouble making my block meshes line up with my image. I've tried lots of things and I'm stuck. I've created a demo app and I'll include the code and a screenshot. It should be a quick fix but I'm banging my head against the wall at this point.
The code below involves 3 classes and my custom styles at the end. HUDDemo is the main app. It attaches a HUDAppState which extends the BaseHudState which is just a slightly modified version of HudState in the lemur project.
Any help is appreciated.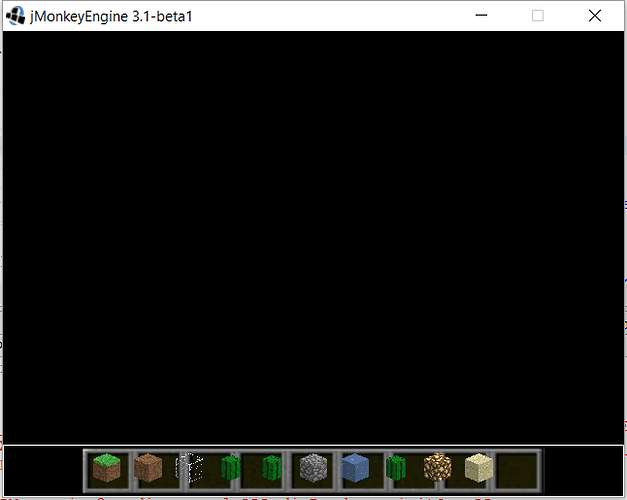 import com.chappelle.jcraft.CubesSettings;
import com.chappelle.jcraft.blocks.*;
import com.chappelle.jcraft.jme3.HUDAppState;
import com.chappelle.jcraft.world.chunk.ChunkMaterial;
import com.jme3.app.*;
import com.simsilica.lemur.GuiGlobals;
import com.simsilica.lemur.style.BaseStyles;

public class HUDDemo extends SimpleApplication
{
	@Override
	public void simpleInitApp()
	{
		//Initialize Lemur GUI
		GuiGlobals.initialize(this);
		BaseStyles.loadGlassStyle();
		BaseStyles.loadStyleResources("com/chappelle/jcraft/jme3/ui/styles/jcraft-styles.groovy");
		GuiGlobals.getInstance().getStyles().setDefaultStyle("glass");

        stateManager.detach(stateManager.getState(StatsAppState.class));
        
        Block block = Blocks.bedrock;//HACK: Need to statically reference Blocks class to initialize blocks
        new CubesSettings(assetManager, new ChunkMaterial(assetManager, "Textures/FaithfulBlocks.png"));//HACK: load up CubesSettings
        
        stateManager.attach(new HUDAppState());
	}
	
	public static void main(String[] args)
	{
		HUDDemo app = new HUDDemo();
		app.showSettings = false;
		app.start();
	}
}

package com.chappelle.jcraft.jme3;

import com.chappelle.jcraft.blocks.*;
import com.chappelle.jcraft.world.chunk.ChunkMaterial;
import com.jme3.app.Application;
import com.jme3.math.*;
import com.jme3.scene.*;
import com.simsilica.lemur.*;
import com.simsilica.lemur.component.BorderLayout.Position;
import com.simsilica.lemur.component.SpringGridLayout;
import com.simsilica.lemur.core.GuiControl;
import com.simsilica.lemur.style.ElementId;

public class HUDAppState extends BaseHudState
{
	private Container hotbarContainer;
	
	public HUDAppState(){}
	
	@Override
	protected void initialize(Application app)
	{
		super.initialize(app);
		
		hotbarContainer = new Container(new ElementId("hud.hotbar"));
		hotbarContainer.setLayout(new SpringGridLayout(Axis.X, Axis.Y));
		hotbarContainer.setPreferredSize(new Vector3f(500, 50, 0));
		hotbarContainer.setInsets(new Insets3f(0, 80, 0, 80));
		ChunkMaterial material = new ChunkMaterial(app.getAssetManager(), "Textures/FaithfulBlocks.png");
		for(int i = 0; i < 10; i++)
		{
			Block block = Block.blocksList[i+1];
			if(block == Blocks.door || block == Blocks.torch || block == Blocks.ladder)//these blocks don't work yet
			{
				block = Blocks.cactus;
			}
			Node node = new Node("huditem" + i);
			Geometry blockItemGeometry = new Geometry("", MeshGenerator.generateIndividualMesh(block));
			blockItemGeometry.rotate(new Quaternion().fromAngleAxis(toRadians(25), Vector3f.UNIT_X));
			blockItemGeometry.rotate(new Quaternion().fromAngleAxis(toRadians(-45), Vector3f.UNIT_Y));
			blockItemGeometry.setMaterial(material);
			node.scale(20.0f);
	        node.attachChild(blockItemGeometry);
	        GuiControl control = new GuiControl(Panel.LAYER_INSETS, Panel.LAYER_BORDER, Panel.LAYER_BACKGROUND);
	        control.setPreferredSize(new Vector3f(50.0f, 10.0f, 10.0f));
	        node.addControl(control);
	        
			hotbarContainer.addChild(node);
		}
		getSouth().addChild(hotbarContainer, Position.Center);
	}

	private float toRadians(float degrees)
	{
	    return (degrees / 180) * FastMath.PI;
	}
}

package com.chappelle.jcraft.jme3;

import com.jme3.app.Application;
import com.jme3.app.state.BaseAppState;
import com.jme3.math.Vector3f;
import com.jme3.renderer.*;
import com.jme3.renderer.queue.RenderQueue.Bucket;
import com.jme3.scene.Node;
import com.simsilica.lemur.*;
import com.simsilica.lemur.component.*;
import com.simsilica.lemur.component.BorderLayout.Position;
import com.simsilica.lemur.event.MouseAppState;
import com.simsilica.lemur.input.InputMapper;
import com.simsilica.lemur.style.ElementId;

public abstract class BaseHudState extends BaseAppState
{
	public static final ElementId ID_HUD = new ElementId("hud");
	public static final ElementId ID_NORTH = ID_HUD.child("north");
	public static final ElementId ID_SOUTH = ID_HUD.child("south");
	public static final ElementId ID_EAST = ID_HUD.child("east");
	public static final ElementId ID_WEST = ID_HUD.child("west");
	
	private ViewPort view;
	private Node main;
	private Container container;
	private Container east;
	private Container west;
	private Container north;
	private Container south;

	public BaseHudState()
	{
	}

	public Node getRoot()
	{
		return main;
	}

	public void toggleHud()
	{
		setEnabled(!isEnabled());
	}

	public Container getEast()
	{
		if(east == null)
		{
			east = new Container(ID_EAST);
			east.setLayout(new SpringGridLayout(Axis.Y, Axis.X, FillMode.None, FillMode.Even));
			east.setInsets(new Insets3f(5, 5, 5, 5));
			container.addChild(east, Position.East);
		}
		return east;
	}

	public Container getWest()
	{
		if(west == null)
		{
			west = new Container(ID_WEST);
			west.setLayout(new SpringGridLayout(Axis.Y, Axis.X, FillMode.None, FillMode.Even));
			west.setInsets(new Insets3f(5, 5, 5, 5));
			container.addChild(west, Position.West);
		}
		return west;
	}

	public Container getNorth()
	{
		if(north == null)
		{
			north = new Container(ID_NORTH);
			north.setLayout(new BorderLayout());
			container.addChild(north, Position.North);
		}
		return north;
	}

	public Container getSouth()
	{
		if(south == null)
		{
			south = new Container(ID_SOUTH);
			south.setLayout(new BorderLayout());
			container.addChild(south, Position.South);
		}
		return south;
	}

	@Override
	protected void initialize(Application app)
	{
		InputMapper inputMapper = GuiGlobals.getInstance().getInputMapper();
		// inputMapper.addDelegate( MainFunctions.F_HUD, this, "toggleHud" );

		Camera cam = app.getCamera().clone();
		cam.setParallelProjection(true);

		main = new Node("HUD");
		main.setQueueBucket(Bucket.Gui);

		view = app.getRenderManager().createPostView("Hud ViewPort", cam);
		view.setEnabled(isEnabled());
		view.setClearFlags(false, true, true);
		view.attachScene(main);

		// Make sure our viewport is setup properly
		GuiGlobals.getInstance().setupGuiComparators(view);

		// Make sure this viewport gets mouse events
		getState(MouseAppState.class).addCollisionRoot(main, view);

		// Setup a basic container for standard layout... for anything
		// that cares to use it.
		container = new Container(new BorderLayout(), ID_HUD);
		container.setPreferredSize(new Vector3f(cam.getWidth(), cam.getHeight(), 0));
		container.setLocalTranslation(0, cam.getHeight(), 0);
		main.attachChild(container);

		// Have to add an empty geometry to the HUD because JME has
		// a bug in the online versions and I'd rather not go directly to
		// source.
//		Label temp = new Label("");
//		getNorth().addChild(temp);

		main.updateLogicalState(1);
		main.updateGeometricState();
	}

	@Override
	protected void cleanup(Application app)
	{
		InputMapper inputMapper = GuiGlobals.getInstance().getInputMapper();
		// inputMapper.removeDelegate( MainFunctions.F_HUD, this, "toggleHud" );

		app.getRenderManager().removePostView(view);
	}

	@Override
	protected void onEnable()
	{
		view.setEnabled(true);
	}

	@Override
	protected void onDisable()
	{
		view.setEnabled(false);
		main.updateGeometricState();
	}

	@Override
	public void update(float tpf)
	{
		main.updateLogicalState(tpf);
	}

	@Override
	public void render(RenderManager rm)
	{
		main.updateGeometricState();
	}

}


import com.simsilica.lemur.*
import com.simsilica.lemur.component.*
import com.jme3.material.RenderState.BlendMode

def gradient = TbtQuadBackgroundComponent.create(
		texture( name:"/com/simsilica/lemur/icons/bordered-gradient.png",
		generateMips:false ),
		1, 1, 1, 126, 126,
		1f, false )

def border = TbtQuadBackgroundComponent.create(
		texture( name:"/com/simsilica/lemur/icons/border.png",
		generateMips:false ),
		1, 2, 2, 6, 6,
		1f, false )
def hotbar = new QuadBackgroundComponent(texture( name:"/Textures/gui/hotbar.png"), 25f, 25f)

def transparent = new QuadBackgroundComponent(color(0, 0, 0, 0))

selector( "container", "glass" )
{
	background = gradient.clone()
	background.setColor(color(0.25, 0.5, 0.5, 0.5))
}
selector( "hud", "glass" )
{ 
	background = transparent 
}
selector( "hud", "south", "glass" )
{
	background = border.clone()
}

selector("hud", "hotbar", "glass")
{
	background = hotbar.clone()
}