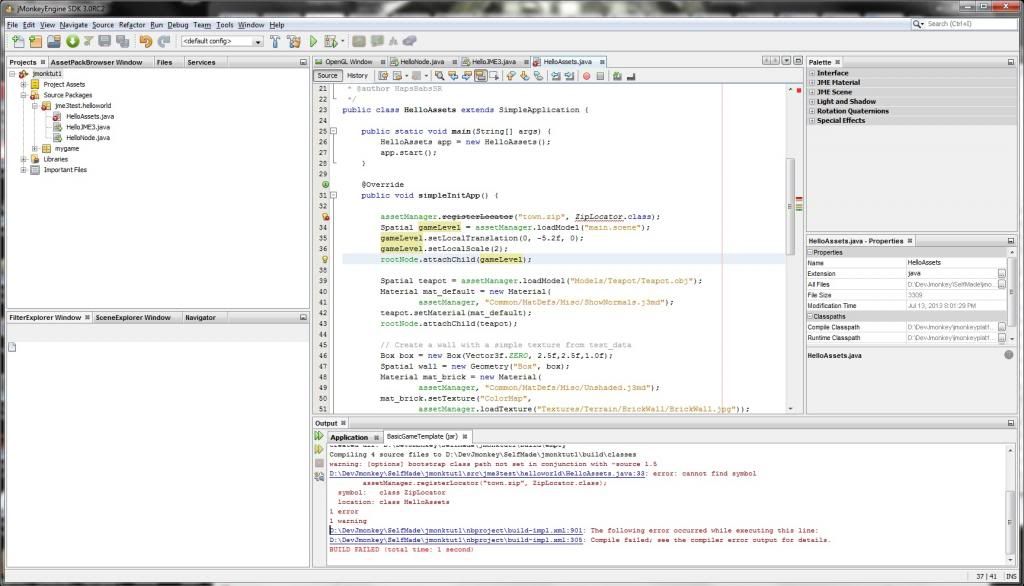 Hey, I'm doing the 3rd tutorial called HelloAssets …
At the Excercise - How to Load Assets part I add to the simpleInitApp the code Im told to


assetManager.registerLocator("town.zip", ZipLocator.class);

Spatial gameLevel = assetManager.loadModel("main.scene");

gameLevel.setLocalTranslation(0, -5.2f, 0);

gameLevel.setLocalScale(2);

rootNode.attachChild(gameLevel);


after writing the first line -
assetManger.registerLocator("town.zip", ZipLocator.class);
the registerLocator part gets a cross-out line through and ZipLocator get's red autocorrect line under it.
On the line number I get yellow exclamation mark in red bubble, on mouseover the bubble tells me:
cannot find symbol symbol:
class ZipLocator
location: HelloAssets
the town.zip file is in the root of the project / out by assets build nbproject src test , folders and the files that the project created…
My immediate guess is an import issue - I'm not that experienced but I messed some imports up that gave same issue with "cannot find symbol class location", so that's my first, best, and only idea… well it could be something else of course.
Anyone who can tell me what is going wrong, please help.
I added screenshots of jmonkey to try show stuff to help understanding what's wrong.
ps. Awesome engine this jmonkey …!