Hello,
I am developing a multiplayer first person shooter. Now I want that the arm bones of the character rotate with the cameras up/down movements. I did the same with the head before: if the player looks up, the head is following him.
That's the relevant code I wrote for the head movement (in init):
neckBone = playerModel.getControl(AnimControl.class).getSkeleton().getBone("neck");

And this in update …
 neckBoneRotation.fromAngleAxis(cam.getDirection().y * (-1), Vector3f.UNIT_X);
 neckBone.setUserTransforms(Vector3f.ZERO, neckBoneRotation, Vector3f.UNIT_XYZ);

That works for me. But in that case the relevant values from the localRotation of the head are zero. So I can easily rotate this with the camera. But the 'default' localRotation of the arms aren't 0. So the arms don't look like as they should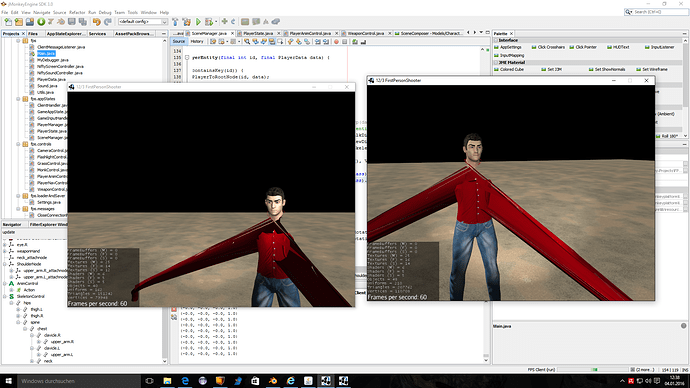 I tried to use a node which contains the attachment nodes from the shoulder bones. But I can't rotate the bones by rotating the parentNode, even if I set shoulderRight.setUserControl(true);
So how can I compute the correct rotation of the bones with the camera movement?
Thank you in advance.