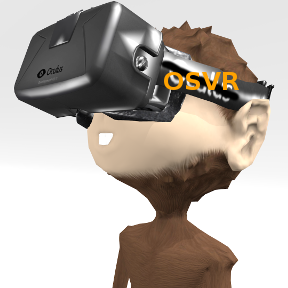 It's been a long time coming, but I finally have come so far as to be able to commit an initial version of a native OSVR integration.
It's very basic so far, only extended mode, and hard-coded distortion due to that. More features will be added in the coming weeks, and hopefully direct rendering too.
In parallel I'm working on the stand-alone JNI project (this is where most of the work has been put, by far).
Why would anyone be interested in this when OSVR can be used in jMonkeyVR (which is also way more feature-rich) via the Steam plugin?
I can think of two scenarios:
You don't need Steam installed. I guess most gamers have it already, but for some types of (especially non-game) applications, you may not want to have to install Steam.

You are targeting OSVR for one reason or another. OSVR is entirely open-source and also has plugins for Vive and Oculus, so it may eventually be a viable option. It's still quite early in development, though.