Hi all,
A new particle system is currently available from the contribution repository, I'm having trouble getting it set up as a proper plugin so it's not available as a plugin yet but it should be soon.
It was inspired by and uses some code from both t0neg0ds system as described in her thread here: http://hub.jmonkeyengine.org/forum/topic/first-look-at-a-new-influencer-based-particleemitter-candidate/ and the existing jME3 particle system. Unfortunately due to t0neg0d's involuntary non-availability I wasn't able to get in touch with her when I started work on this so it's not as collaborative as I'd have liked.
It provides most of the functionality from hers (It doesn't currently support animated meshes on particles, or generating of static particles that move with the parent mesh. Both of those could be provided if people have a use for them within this framework) with enhancements in a number of areas and should be as fast or faster than the current particle system, while offering massively more flexibility.
The API may need to be "jmonkified" to fit in more with the feel of the rest of the engine so should not be considered final just yet. At this stage I'm mostly looking for feedback on the API, the functionality, and any potential bugs or improvements although people are welcome to start using it for their projects (I know I am about to!).
I've created a wiki page that step-by-step introduces the functionality, and also a reference page for the options currently in place:
Introduction: https://wiki.jmonkeyengine.org/legacy/doku.php/jme3:contributions:particles
Reference: https://wiki.jmonkeyengine.org/legacy/doku.php/jme3:contributions:particles:reference
The introduction builds up to doing things like this: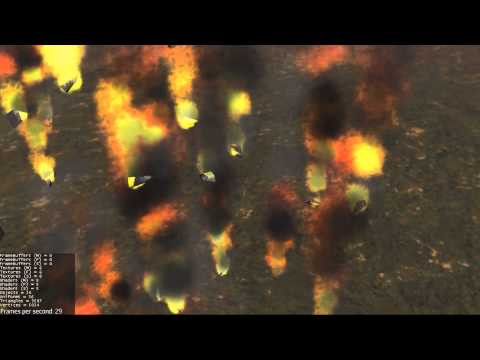 Sorry for the jitter in the video, it didn't like the recorder app state for some reason.
All feedback is welcome.
Thanks,
Z