Hi everyone,
I would like to exploit the potential of the SDK and I have a question to ask.
What's the best way to instantiate the AssetManager inside an AbstractControl added to the scene via the SDK?
For example, let's say I want to add some geometry to a node or I want to do some stuff with the SDK that requires an AssetManager instance.
Are there downsides or better ways to create an assetManager like this:
new DesktopAssetManager(true) ?
Thanks.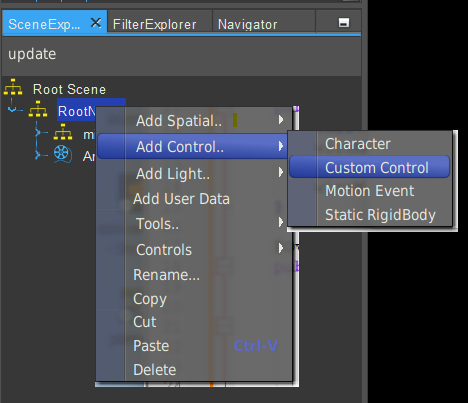 public class MyControl extends AbstractControl {

    protected final AssetManager assetManager;
    private Material wireMat;

    public MyControl() {
        this.assetManager = new DesktopAssetManager(true);
        wireMat = new Material(assetManager, "Common/MatDefs/Misc/Unshaded.j3md");
        wireMat.setColor("Color", ColorRGBA.Green);
        wireMat.getAdditionalRenderState().setWireframe(true);
    }

    @Override
    public void setSpatial(Spatial sp) {
        super.setSpatial(sp);

        if (spatial != null) {
            Mesh mesh = ...;
            spatial.breadthFirstTraversal(new SceneGraphVisitorAdapter() {
                @Override
                public void visit(Node node) {
                    Geometry geom = new Geometry(node.getName() + "-geom", mesh);
                    geom.setMaterial(wireMat);
                    node.attachChild(geom);
                }
            });
        }
    }

    @Override
    protected void controlUpdate(float tpf) {
    }

    @Override
    protected void controlRender(RenderManager rm, ViewPort vp) {
    }

}