Hello
I am speaking in translation because I am not good at English.
I loaded the STL file from the Minie library using HelloMadMallet.java
at Minie/HelloMadMallet.java at 14d4f6af68c439e3413adc6ea27f3f90919d26ab · stephengold/Minie · GitHub
and wrote a test code where the object fell from top to bottom.
But it took 12 seconds to shape the collision of the object.
This object has a small file size of 1.6 MB. Can you tell me why?
It's the code I wrote.
package jme3utilities.tutorial;

import com.jme3.app.SimpleApplication;
import com.jme3.asset.plugins.ClasspathLocator;
import com.jme3.asset.plugins.FileLocator;
import com.jme3.bullet.BulletAppState;
import com.jme3.bullet.PhysicsSpace;
import com.jme3.bullet.collision.shapes.CollisionShape;
import com.jme3.bullet.collision.shapes.CompoundCollisionShape;
import com.jme3.bullet.collision.shapes.CylinderCollisionShape;
import com.jme3.bullet.collision.shapes.HullCollisionShape;
import com.jme3.bullet.control.RigidBodyControl;
import com.jme3.bullet.objects.PhysicsBody;
import com.jme3.bullet.objects.PhysicsRigidBody;
import com.jme3.material.Material;
import com.jme3.math.Vector3f;
import com.jme3.scene.Geometry;

import jme3utilities.stl.STLLoader;

public class HelloMadMallet extends SimpleApplication {
	private PhysicsSpace physicsSpace;
	BulletAppState _bulletAppState;
	
    public static void main(String[] arguments) {
        HelloMadMallet application = new HelloMadMallet();
        application.start();
    }
    /**
     * Initialize this application.
     */
    @Override
    public void simpleInitApp() {
        // Set up Bullet physics and create a physics space.
    	_bulletAppState = new BulletAppState();
    	_bulletAppState.setDebugEnabled(true);
        stateManager.attach(_bulletAppState);
        physicsSpace = _bulletAppState.getPhysicsSpace();

        physicsSpace.setGravity(new Vector3f(0f, -50f, 0f));

        // Visualize the local axes of each collision object.
        _bulletAppState.setDebugAxisLength(1f);
        
        meshLoad();

        // Create a static disc and add it to the space.
        float discRadius = 5f;
        float discThickness = 0.5f;
        CollisionShape discShape = new CylinderCollisionShape(discRadius,
                discThickness, PhysicsSpace.AXIS_Y);
        PhysicsRigidBody disc
                = new PhysicsRigidBody(discShape, PhysicsBody.massForStatic);
        physicsSpace.addCollisionObject(disc);
        disc.setPhysicsLocation(new Vector3f(0f, -3f, 0f));

        // Re-position the camera for a better view.
        cam.setLocation(new Vector3f(10f, -2.75f, 0f));
        Vector3f targetLocation = new Vector3f(0f, -2.75f, 0f);
        Vector3f upDirection = Vector3f.UNIT_Y;
        cam.lookAt(targetLocation, upDirection);
    }
    
    public void meshLoad() {
        // Set assetManager
    	assetManager.registerLocator("C:/", FileLocator.class);
  		assetManager.registerLocator("/", ClasspathLocator.class);
  		assetManager.registerLoader(STLLoader.class, "stl");
  		
		// Add a model to the scene.
  		long stl_beforeTime = System.currentTimeMillis();
		Geometry geo = (Geometry) assetManager
				.loadModel("conveyorBelt.stl");
		Material mat = new Material(assetManager, "Common/MatDefs/Misc/ShowNormals.j3md");
		long stl_afterTime = System.currentTimeMillis();
        long stl_secDiffTime = (stl_afterTime - stl_beforeTime);
        System.out.print("stl time : " + stl_secDiffTime + " (ms)\n");
		
        // Add collision shape
		long collision_beforeTime = System.currentTimeMillis();
		HullCollisionShape shape = new HullCollisionShape(geo.getMesh());
		RigidBodyControl control = new RigidBodyControl(shape, 1f);
		long collision_afterTime = System.currentTimeMillis();
        long collision_secDiffTime = (collision_afterTime - collision_beforeTime);
        System.out.print("collision time : " + collision_secDiffTime + " (ms)\n");
        
		geo.addControl(control);
		control.setPhysicsLocation(new Vector3f(0f, 4f, 0f));
		physicsSpace.add(geo);
		geo.setMaterial(mat);
		geo.scale(1f);
		rootNode.attachChild(geo);
    }
}


Results screen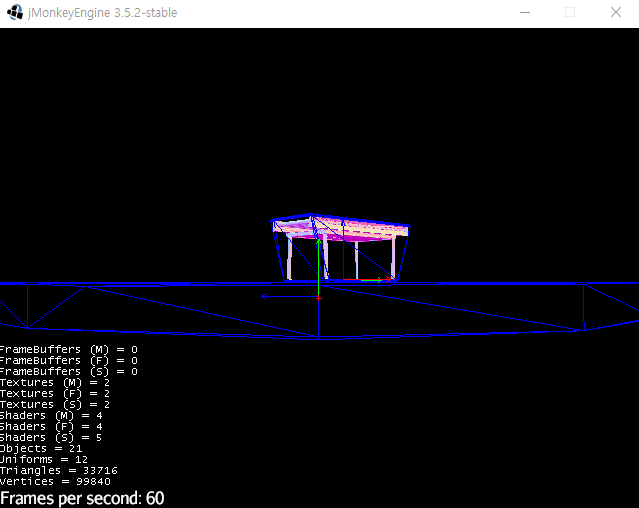 Console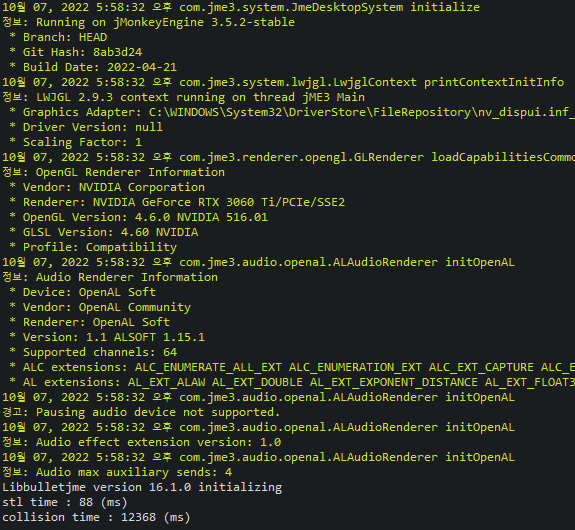 Time to load the stl file : 0.088s
Time to create conflict shapes for stl files : 12s