Hi,
I don't know how to continue.
I tested my code with swing and custom painting (2D of cause). When everything was fine, I transformed the code to jme3 and 3D.
But result is completely different, although I use the same code.
May be I have overlooked something, but I have no idea about it.
As a test image I tried to create a lower case letter "N", which looks ok from swing …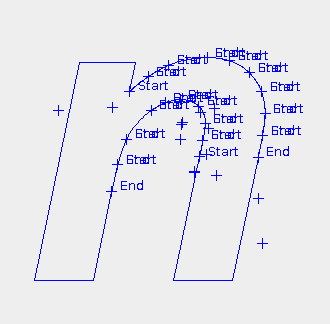 same code run by jme3: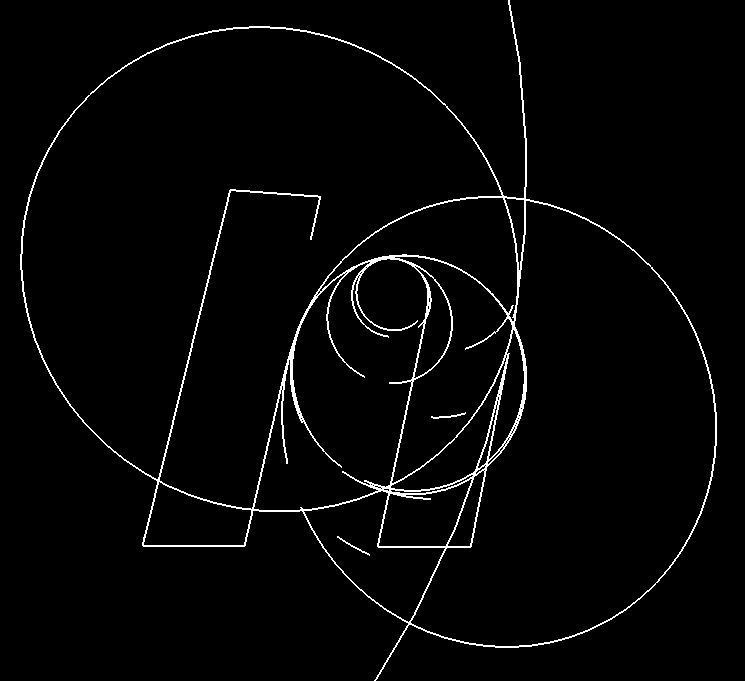 Here is the code …
first the Application class
package de.schwarzrot.jme3;


import java.io.BufferedReader;
import java.io.File;
import java.io.FileReader;
import java.io.IOException;
import java.util.HashMap;
import java.util.Map;

import com.jayfella.camera.FocusCameraState;
import com.jme3.app.SimpleApplication;
import com.jme3.bounding.BoundingBox;
import com.jme3.material.Material;
import com.jme3.math.ColorRGBA;
import com.jme3.math.FastMath;
import com.jme3.math.Vector3f;
import com.jme3.scene.Geometry;
import com.jme3.scene.debug.Arrow;

import de.schwarzrot.util.IGeoLineParser;
import de.schwarzrot.widgets.jme3.Arc;
import de.schwarzrot.widgets.jme3.ICreator3D;
import de.schwarzrot.widgets.jme3.Line;


public class Preview3DCreator extends SimpleApplication implements ICreator3D {
   public Preview3DCreator() {
      geoCache = new HashMap<Integer, Geometry>();
   }


   @Override
   public void createArc(Vector3f from, Vector3f to, Vector3f center, int lineNum, boolean clockwise) {
      Arc      a  = new Arc(from, to, center, lineNum, clockwise);
      Geometry ga = new Geometry("Arc", a);
      Material m  = new Material(assetManager, "Common/MatDefs/Misc/Unshaded.j3md");

      m.setColor("Color", ColorRGBA.White);
      m.getAdditionalRenderState().setLineWidth(2);
      ga.setMaterial(m);

      geoCache.put(lineNum, ga);
      rootNode.attachChild(ga);
   }


   @Override
   public void createLine(Vector3f from, Vector3f to, int lineNum, boolean fastMove) {
      Line     l  = new Line(from, to, lineNum, fastMove);
      Geometry gl = new Geometry("Line", l);
      Material m  = new Material(assetManager, "Common/MatDefs/Misc/Unshaded.j3md");

      m.setColor("Color", fastMove ? ColorRGBA.Gray : ColorRGBA.White);
      m.getAdditionalRenderState().setLineWidth(fastMove ? 1 : 2);
      gl.setMaterial(m);

      geoCache.put(lineNum, gl);
      rootNode.attachChild(gl);
   }


   public void processGeomFile(File f) {
      BufferedReader br   = null;
      Vector3f       last = null;
      String         line;

      wait4Material();
      try {
         br = new BufferedReader(new FileReader(f));

         while ((line = br.readLine()) != null) {
            last = geoParser.parseLine(line, last, this);
         }
      } catch (IOException e) {
         e.printStackTrace();
      } finally {
         if (br != null) {
            try {
               br.close();
            } catch (IOException ex) {
            }
         }
         updateCamera();
      }
   }


   public void setGeoParser(IGeoLineParser p) {
      this.geoParser = p;
   }


   @Override
   public void simpleInitApp() {
      setDisplayFps(false);
      setDisplayStatView(false);
      setShowSettings(false);
      flyCam.setEnabled(false);
      Geometry geo = createOrigin();

      focusCameraState = new FocusCameraState();
      stateManager.attach(focusCameraState);
      focusCameraState.setFocusPoint(geo);
   }


   // creation of graphic primitives is too early, so have to wait for material
   // to become available
   public void wait4Material() {
      Material m = null;

      while (m == null) {
         Thread.yield();
         try {
            Thread.sleep(100, 0);
         } catch (InterruptedException e) {
         }
         if (assetManager != null) {
            m = new Material(assetManager, "Common/MatDefs/Misc/Unshaded.j3md");
         }
      }
   }


   protected Geometry createOrigin() {
      Arrow    a  = new Arrow(new Vector3f(1f, 0, 0));
      Geometry ga = new Geometry("Arrow", a);
      Material m  = new Material(assetManager, "Common/MatDefs/Misc/Unshaded.j3md");

      m.setColor("Color", ColorRGBA.Red);
      m.getAdditionalRenderState().setWireframe(true);
      m.getAdditionalRenderState().setLineWidth(1);
      ga.setMaterial(m);

      rootNode.attachChild(ga);

      a  = new Arrow(new Vector3f(0, 1f, 0));
      ga = new Geometry("Arrow", a);
      m  = new Material(assetManager, "Common/MatDefs/Misc/Unshaded.j3md");

      m.setColor("Color", ColorRGBA.Green);
      m.getAdditionalRenderState().setWireframe(true);
      m.getAdditionalRenderState().setLineWidth(1);
      ga.setMaterial(m);

      rootNode.attachChild(ga);

      a  = new Arrow(new Vector3f(0, 0, 1f));
      ga = new Geometry("Arrow", a);
      m  = new Material(assetManager, "Common/MatDefs/Misc/Unshaded.j3md");

      m.setColor("Color", ColorRGBA.Blue);
      m.getAdditionalRenderState().setWireframe(true);
      m.getAdditionalRenderState().setLineWidth(1);
      ga.setMaterial(m);

      rootNode.attachChild(ga);

      return ga;
   }


   protected void reset() {
      rootNode.detachAllChildren();
      createOrigin();
   }


   // code from 1000ml
   private void updateCamera() {
      BoundingBox bbox = (BoundingBox) rootNode.getWorldBound();

      if (bbox == null)
         return;
      float extent = bbox.getXExtent();

      if (bbox.getYExtent() > extent)
         extent = bbox.getYExtent();
      if (bbox.getZExtent() > extent)
         extent = bbox.getZExtent();

      /*
       *  Calculate camera distance where BoundingBox is fully visible
       */
      float dist = extent / (float) Math.tan(s_camFov * 0.5 * FastMath.DEG_TO_RAD);

      cam.setLocation(new Vector3f(0, dist * (float) Math.sin(s_camElevation),
            dist * (float) Math.cos(s_camElevation)));
      float y = bbox.getCenter().y * 0.666f;

      cam.lookAt(new Vector3f(0, y, 0), Vector3f.UNIT_Y);
   }


   private IGeoLineParser         geoParser;
   private FocusCameraState       focusCameraState;
   private Map<Integer, Geometry> geoCache;
   private static final float     s_camFov       = 30;
   private static final float     s_camElevation = 40 * FastMath.DEG_TO_RAD;
}

which is embedded in a Swing panel like this:
(this Panel contains the test-data)
package de.schwarzrot.jme3;


import java.awt.BorderLayout;
import java.awt.Canvas;
import java.awt.event.WindowAdapter;
import java.awt.event.WindowEvent;
import java.util.logging.ConsoleHandler;
import java.util.logging.Handler;
import java.util.logging.Logger;

import javax.swing.JFrame;
import javax.swing.JPanel;
import javax.swing.JPopupMenu;
import javax.swing.SwingUtilities;

import com.jme3.app.SimpleApplication;
import com.jme3.math.Vector3f;
import com.jme3.system.AppSettings;
import com.jme3.system.JmeCanvasContext;
import com.jme3.util.JmeFormatter;

import de.schwarzrot.widgets.jme3.ICreator3D;


public class JME3Pane extends JPanel {
   public JME3Pane(SimpleApplication app) {
      AppSettings settings = new AppSettings(true);

      settings.setWidth(1000);
      settings.setHeight(1000);
      JME3Pane.app = app;

      app.setPauseOnLostFocus(false);
      app.setSettings(settings);
      app.createCanvas();
      app.startCanvas();

      context = (JmeCanvasContext) app.getContext();
      canvas  = context.getCanvas();
      canvas.setSize(settings.getWidth(), settings.getHeight());
      setLayout(new BorderLayout());
      add(canvas, BorderLayout.CENTER);
   }


   protected void createPrimitives(ICreator3D app) {
      app.wait4Material();
      app.createLine(new Vector3f(13.279f, 0.250f, 3.000f), new Vector3f(13.279f, 0.250f, -5.000f), 330,
            false);
      app.createLine(new Vector3f(13.279f, 0.250f, -5.000f), new Vector3f(14.797f, 7.510f, -5.000f), 340,
            false);
      app.createLine(new Vector3f(14.797f, 7.510f, -5.000f), new Vector3f(16.656f, 7.510f, -5.000f), 350,
            false);
      app.createLine(new Vector3f(16.656f, 7.510f, -5.000f), new Vector3f(16.465f, 6.566f, -5.000f), 360,
            false);
      app.createArc(new Vector3f(16.465f, 6.566f, -5.000f), new Vector3f(17.082f, 7.043f, -5.000f),
            new Vector3f(20.876f, 1.496f, -5.000f), 370, true);
      app.createArc(new Vector3f(17.082f, 7.043f, -5.000f), new Vector3f(17.764f, 7.421f, -5.000f),
            new Vector3f(19.351f, 3.751f, -5.000f), 380, true);
      app.createArc(new Vector3f(17.764f, 7.421f, -5.000f), new Vector3f(19.042f, 7.681f, -5.000f),
            new Vector3f(19.031f, 4.458f, -5.000f), 390, true);
      app.createArc(new Vector3f(19.042f, 7.681f, -5.000f), new Vector3f(19.798f, 7.568f, -5.000f),
            new Vector3f(19.074f, 5.306f, -5.000f), 400, true);
      app.createArc(new Vector3f(19.798f, 7.568f, -5.000f), new Vector3f(20.450f, 7.168f, -5.000f),
            new Vector3f(19.284f, 5.997f, -5.000f), 410, true);
      app.createArc(new Vector3f(20.450f, 7.168f, -5.000f), new Vector3f(20.851f, 6.542f, -5.000f),
            new Vector3f(19.285f, 5.981f, -5.000f), 420, true);
      app.createArc(new Vector3f(20.851f, 6.542f, -5.000f), new Vector3f(20.970f, 5.808f, -5.000f),
            new Vector3f(18.815f, 5.836f, -5.000f), 430, true);
      app.createArc(new Vector3f(20.970f, 5.808f, -5.000f), new Vector3f(20.885f, 5.079f, -5.000f),
            new Vector3f(15.882f, 6.033f, -5.000f), 440, true);
      app.createArc(new Vector3f(20.885f, 5.079f, -5.000f), new Vector3f(20.744f, 4.358f, -5.000f),
            new Vector3f(1.159f, 8.548f, -5.000f), 450, true);
      app.createLine(new Vector3f(20.744f, 4.358f, -5.000f), new Vector3f(19.890f, 0.250f, -5.000f), 460,
            false);
      app.createLine(new Vector3f(19.890f, 0.250f, -5.000f), new Vector3f(17.928f, 0.250f, -5.000f), 470,
            false);
      app.createLine(new Vector3f(17.928f, 0.250f, -5.000f), new Vector3f(18.789f, 4.372f, -5.000f), 480,
            false);
      app.createArc(new Vector3f(18.789f, 4.372f, -5.000f), new Vector3f(18.898f, 4.920f, -5.000f),
            new Vector3f(-12.620f, 10.920f, -5.000f), 490, false);
      app.createArc(new Vector3f(18.898f, 4.920f, -5.000f), new Vector3f(18.980f, 5.473f, -5.000f),
            new Vector3f(14.072f, 5.920f, -5.000f), 500, false);
      app.createArc(new Vector3f(18.980f, 5.473f, -5.000f), new Vector3f(18.755f, 6.061f, -5.000f),
            new Vector3f(18.210f, 5.514f, -5.000f), 510, false);
      app.createArc(new Vector3f(18.755f, 6.061f, -5.000f), new Vector3f(18.140f, 6.279f, -5.000f),
            new Vector3f(18.188f, 5.441f, -5.000f), 520, false);
      app.createArc(new Vector3f(18.140f, 6.279f, -5.000f), new Vector3f(17.634f, 6.169f, -5.000f),
            new Vector3f(18.166f, 4.950f, -5.000f), 530, false);
      app.createArc(new Vector3f(17.634f, 6.169f, -5.000f), new Vector3f(17.183f, 5.917f, -5.000f),
            new Vector3f(18.612f, 3.881f, -5.000f), 540, false);
      app.createArc(new Vector3f(17.183f, 5.917f, -5.000f), new Vector3f(16.355f, 4.960f, -5.000f),
            new Vector3f(18.615f, 3.843f, -5.000f), 550, false);
      app.createArc(new Vector3f(16.355f, 4.960f, -5.000f), new Vector3f(16.066f, 4.108f, -5.000f),
            new Vector3f(20.738f, 2.998f, -5.000f), 560, false);
      app.createArc(new Vector3f(16.066f, 4.108f, -5.000f), new Vector3f(15.863f, 3.230f, -5.000f),
            new Vector3f(34.239f, -0.562f, -5.000f), 570, false);
      app.createLine(new Vector3f(15.863f, 3.230f, -5.000f), new Vector3f(15.241f, 0.250f, -5.000f), 580,
            false);
      app.createLine(new Vector3f(15.241f, 0.250f, -5.000f), new Vector3f(13.279f, 0.250f, -5.000f), 590,
            false);
   }


   public static void main(String[] args) {
      JmeFormatter formatter      = new JmeFormatter();
      Handler      consoleHandler = new ConsoleHandler();

      consoleHandler.setFormatter(formatter);

      Logger.getLogger("").removeHandler(Logger.getLogger("").getHandlers()[0]);
      Logger.getLogger("").addHandler(consoleHandler);
      try {
         Thread.sleep(500);
      } catch (InterruptedException ex) {
      }
      SwingUtilities.invokeLater(new Runnable() {
         @Override
         public void run() {
            JPopupMenu.setDefaultLightWeightPopupEnabled(false);
            boolean simpleTest = false;

            createFrame();

            if (simpleTest) {
               JME3Pane pane3DCanvas = new JME3Pane(new LineWidthTest());

               frame.add(pane3DCanvas, BorderLayout.CENTER);
            } else {
               Preview3DCreator app          = new Preview3DCreator();
               final JME3Pane   pane3DCanvas = new JME3Pane(app);

               frame.add(pane3DCanvas, BorderLayout.CENTER);
               SwingUtilities.invokeLater(new Runnable() {
                  @Override
                  public void run() {
                     pane3DCanvas.createPrimitives(app);
                  }
               });
            }
            frame.pack();
            frame.setLocationRelativeTo(null);
            frame.setVisible(true);
         }
      });
   }


   private static void createFrame() {
      frame = new JFrame("Test JME3-Integration");
      frame.setDefaultCloseOperation(JFrame.DISPOSE_ON_CLOSE);
      frame.addWindowListener(new WindowAdapter() {
         @Override
         public void windowClosed(WindowEvent e) {
            app.stop();
         }
      });
   }


   private static final long        serialVersionUID = 1L;
   private static SimpleApplication app;
   private static JmeCanvasContext  context;
   private static Canvas            canvas;
   private static JFrame            frame;
}

and here is the point of interest, my implementation of an arc:
package de.schwarzrot.widgets.jme3;


import java.nio.FloatBuffer;

import com.jme3.math.FastMath;
import com.jme3.math.Vector3f;
import com.jme3.scene.Mesh;
import com.jme3.scene.VertexBuffer.Type;
import com.jme3.util.BufferUtils;


public class Arc extends Mesh {
   // based on the work of Lim, YongHoon
   public Arc(Vector3f from, Vector3f to, Vector3f center, int lineNum, boolean clockwise) {
      FloatBuffer vertexBuf = createBuffer(from, to, center);

      this.lineNum   = lineNum;
      this.clockwise = clockwise;
      setBuffer(Type.Position, 3, vertexBuf);
      setMode(Mode.LineStrip);
      updateBound();
      updateCounts();
   }


   public int getLineNum() {
      return lineNum;
   }


   public boolean isClockwise() {
      return clockwise;
   }


   private FloatBuffer createBuffer(Vector3f from, Vector3f to, Vector3f center) {
      Vector3f base = new Vector3f(1, 0, 0);
      Vector3f s    = from.subtract(center);
      Vector3f e    = to.subtract(center);
      float    r    = s.length();
      //      float    r1   = e.length();

      s.normalizeLocal();
      e.normalizeLocal();
      float a0 = base.angleBetween(s);
      float a1 = base.angleBetween(e);

      if (s.y > center.y)
         a0 = FastMath.TWO_PI - a0;
      if (e.y > center.y)
         a1 = FastMath.TWO_PI - a1;
      float arc = a1 - a0;

      if (!clockwise && a0 < a1)
         arc = FastMath.TWO_PI - arc;
      else if (clockwise && a0 > a1)
         arc = FastMath.TWO_PI - a0 + a1;

      float       step  = arc / samples;
      float       zStep = (to.z - from.z) / samples;
      float       x     = 0, y = 0, z = from.getZ(), theta = a0;
      FloatBuffer buf   = BufferUtils.createVector3Buffer(samples + 1);

      if (!clockwise && step > 0)
         step *= -1;
      buf.rewind();

      for (int i = 0; i <= samples; ++i, theta += step, z += zStep) {
         x = center.x + r * FastMath.cos(theta);
         y = center.y - r * FastMath.sin(theta);
         buf.put(x).put(y).put(z);
      }
      return buf;
   }


   private int        lineNum;
   private boolean    clockwise;
   private static int samples = 64;
}

Any help is appreciated