Hello.
recently i started making some tree assets that contains leaves.
got a question. when its about tree leaves.
already made planes 2-sided (i never needed use this) so i thought it will be fine.
but in second screenshot black leaves is backface.
so i wonder, if i should do this doublesided quads or use something else.
i seen to fix backface lighting need to setup:
renderManager.setPreferredLightMode(TechniqueDef.LightMode.SinglePass);

but should i use it? i hope there is some better way to do tree leaves.
Maybe i should make leaves not as quads, but as some cubes? or dupplicate them somehow in blender with opposite normal direction?
how are you making trees look nice in JME?
thanks for any suggestions

here is test-tree i made:
in Blender(2.8):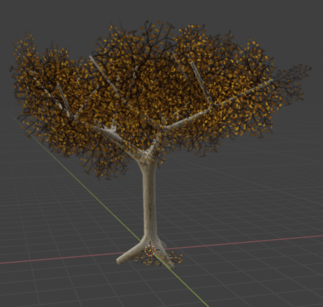 in JME