Hello!
I am making a spaceship game.
Problem is, I have not given much though to physics yet.
To understand my problem, you must first get a grasp of how I set this up…
I want ships that are buildable part by part. So far, I have an environment which allows me to build ships by clicking a menu item and placing parts on the grid: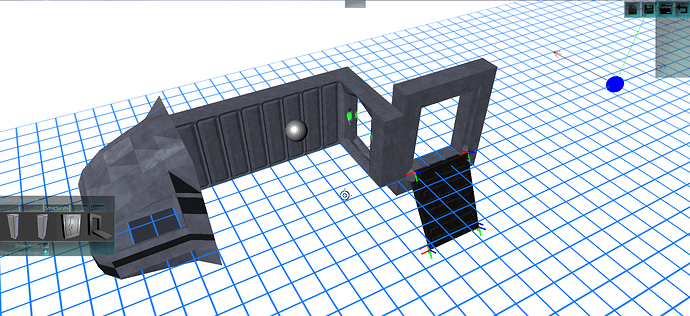 The ship can be saved to disk and then loaded into another environment.
Notice the grey sphere. That is the center of mass. It is also the localTranslation of the main node holding all the parts.
When I add a part, it recalculates where the new center of mass is and moves all the parts accordingly so that the user does not notice, so all you see is the center of mass move around.
Doing it this way allows me to rotate the whole ship by rotating the main node whilst having a realistic rotation point.
Now, this being said, my idea was to simply add the main node to the physics space and prey that JME would do the rest. If you know physics than you are probably smiling at my lack of foresight. The ship will perform fine as a static kinematic object but if I try to add mass the processor starts to get annoyed. If I set kinematic to false, my ship goes to pos (0,0,0) and gets stuck in the terrain.
So my questions are:
How can I make this puppy work with physics? How can I limit the physics collision object to be more simple and just take the edges of the outside of the ship?

The thing sticking out in the image below is a ramp. I make it move but obviously the physics are not rotating with the spatial because I use setLocalRotation. This prevents my player from boarding the ramp and going in the ship.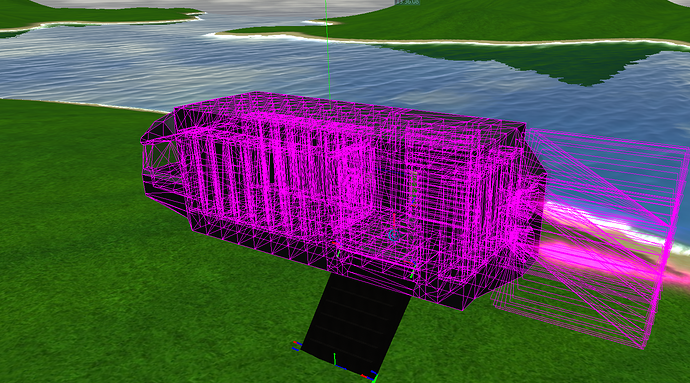 Should the ship use instancing or batching? I have many similar materials and many similar meshes. Can I effectively use both?