I am trying to load an user defined material using Material m1 = new Material(assetManager, "SimpleColor.j3md");,when the SimpleColor.j3md is in the assets subdirectory, but it throws the following exception,
SEVERE: Uncaught exception thrown in Thread[jME3 Main,5,main]
com.jme3.asset.AssetNotFoundException: SimpleColor.j3md
	at com.jme3.asset.DesktopAssetManager.loadAsset(DesktopAssetManager.java:385)
	at com.jme3.material.Material.<init>(Material.java:104)
	at HelloJME3.simpleInitApp(HelloJME3.java:31)
	at com.jme3.app.SimpleApplication.initialize(SimpleApplication.java:240)
	at com.jme3.system.lwjgl.LwjglAbstractDisplay.initInThread(LwjglAbstractDisplay.java:139)
	at com.jme3.system.lwjgl.LwjglAbstractDisplay.run(LwjglAbstractDisplay.java:221)
	at java.base/java.lang.Thread.run(Thread.java:831)

Here is the folder structure of the project,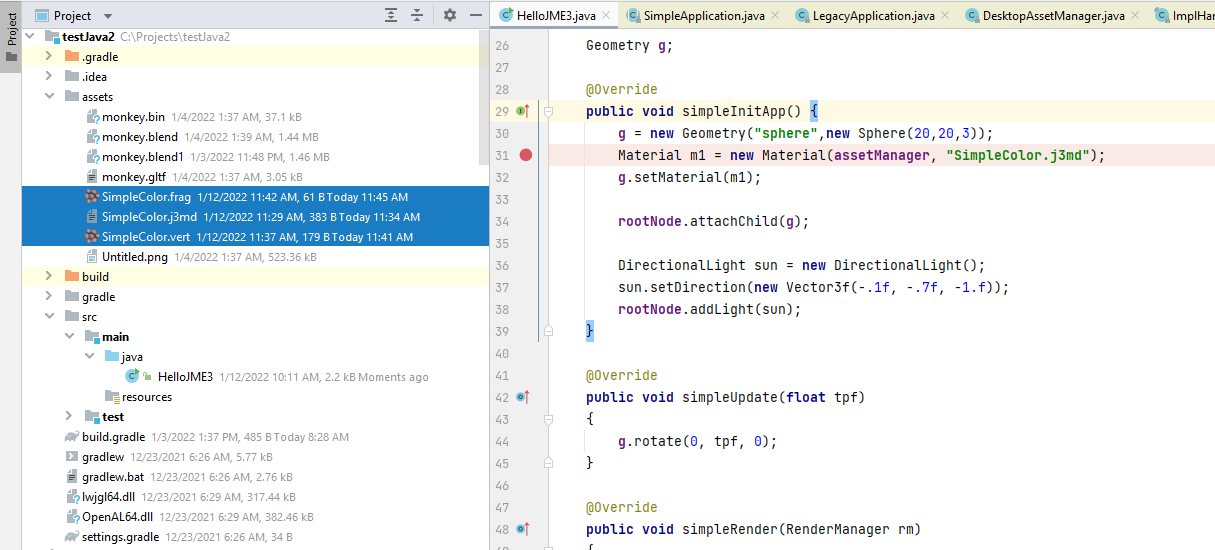 The j3md, vert and frag files are inside the assets folder. I was under the assumption it would work because the AssetManager documentation says jME3 searches for models in a directory named assets.
I was trying to set breakpoint to find what path is being searched at. When debugging I found the root gets the value empty string.
And the same method returns null because there member to loop over classLoaders.