Hi All,
Coming to JME after a long vacation about more than 3-4 years. I hope all of you are well in the era of the corona.
I see that the AnimControl class is marked as deprecated and replaced it with AnimComposor.
I was trying to use one but couldn't find the way how to use it.
Whenever I try to get AnimComposor from model loaded from bland it returns null. but it correctly returns AnimControl.
Should I use AnimControl even though it is deprecated? or I missed something to use AnimComposer?
here is the code snippet.
       Node deer = (Node)scene.getChild("deer");
        Node head = (Node)deer.getChild("Head");
        AnimComposer composer = head.getControl(AnimComposer.class); // Returns null
        AnimControl control = head.getControl(AnimControl.class); // Returns Animation Controll

I used free assets downloaded from somewhere in the internet to test my hand in JME after a long time.
Screenshot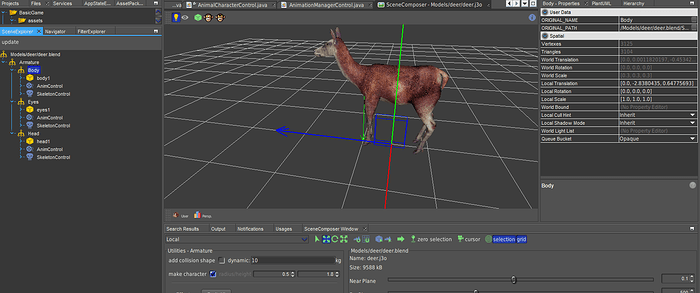 System information
Product Version: jMonkeyEngine SDK 3.3.0-v3.3.0-beta1-sdk1-SNAPSHOT
Updates: jMonkeyEngine SDK is updated to version NetBeans 8.2 Patch 2
Java: 11.0.7; Java HotSpot™ 64-Bit Server VM 11.0.7+8-LTS
Runtime: Java™ SE Runtime Environment 11.0.7+8-LTS
System: Windows 10 version 10.0 running on amd64; Cp1252; en_US (jmonkeyplatform)