Hi!, I am a new in JME3 and I have some troubles with rendering.
The code is simple, and I am trying to practise after reading the wiki, I tried to find online, but I didn't find something useful. I am making a 100 x 10 x 100 terrain using Box geometry with size 0.5, the creation and the texture works perfect, but I have really slow FPS, and I know that JME3 has Dynamic Culling, but for some reason that I haven't managed to solve, the app still render the 100000! Geomtry, here's a pic: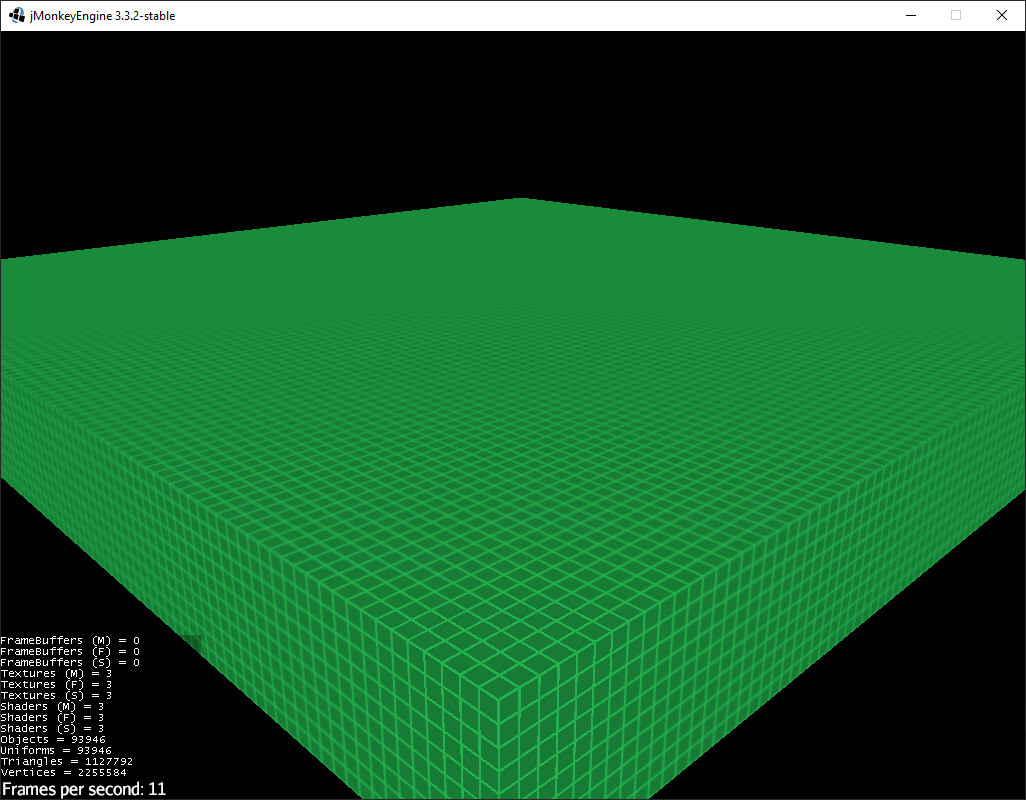 But when I look away (Or just look few blocks), I get back that 60 fps (I am using VSYNC). Here it's the code, please feel free to correct me and if I am making anything wrong I am open to critics. Thank you!
import com.jme3.app.SimpleApplication;
import com.jme3.material.Material;
import com.jme3.scene.Geometry;
import com.jme3.scene.shape.Box;
import com.jme3.texture.Texture;

public class LaunchGame extends SimpleApplication{
	
	Box cube;
	Material cubeMat;
	Texture cubeText;

	@Override
	public void simpleInitApp(){
		this.flyCam.setMoveSpeed(10);
		createCube();
		createWorld(100, 10, 100);
	}

	public void createCube(){
		cube = new Box(0.5f, 0.5f, 0.5f);
		cubeMat = new Material(this.assetManager, "Common/MatDefs/Misc/Unshaded.j3md");
		cubeText = assetManager.loadTexture("Textures/cube_g.png");
		cubeText.setMagFilter(Texture.MagFilter.Nearest);
		cubeMat.setTexture("ColorMap", cubeText);
	}

	public void addCube(float X, float Y, float Z){
		Geometry geom = new Geometry("cube", cube);
		geom.setMaterial(cubeMat);
		geom.setLocalTranslation(X, Y, Z);
		rootNode.attachChild(geom);
	}
	
	public void createWorld(int xSize, int ySize, int zSize){
		for(int X = 0; X < xSize; X++){
			for(int Y = 0; Y < ySize; Y++){
				for(int Z = 0; Z < zSize; Z++){
					addCube(X, Y, Z);
				}
			}
		}
	}

	public static void main(String[] args){ new LaunchGame().start(); }
}