Hi everyone.
I have a board (Set<Tile>) of hexagonal tiles. Currently, I'm drawing them one by one. As this is draining fps quite fast, I want to improve the way I draw them. The best way is to make a large mesh (and use LOD/chunks if it gets big), just like a normal terrain.
I thought (and found examples) of at least three different possibilities to make such terrain, and I decided to start with the simplest, which does not use hexagonal voxels:
If two tiles are next to each other, but at different heights, it draws a wall to connect them
If two tiles are next to each other, and at the same height, the vertexes should be re-used (no overlapping vertexes in the vertex buffer)
If no neighbor is found, and the tile is at height >0, a wall should go to height=0 (so you don't have large gaps in the side of your map)
This is what is it should look like (although this uses hex voxels):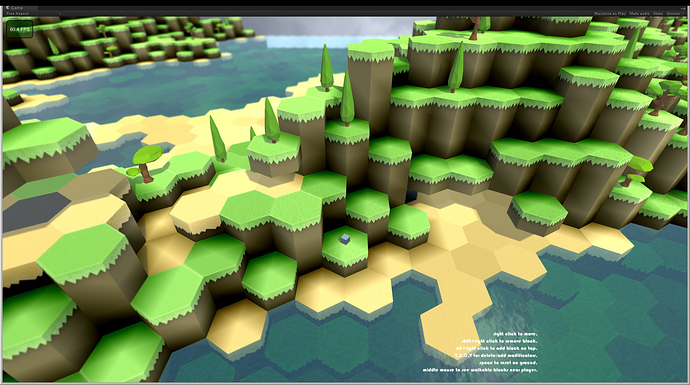 Does anyone have any code/mesh/examples that I can use or learn from?
UPDATE:
I made a prototype of the algorithm in another language (open scad) to show how it would aproximatly look like: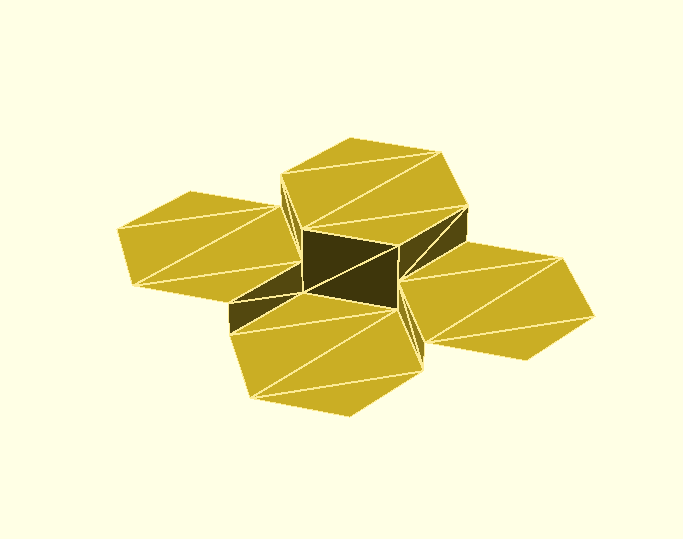 As you can see, all tiles are at different heights, and walls connect to them. However, I did not add the walls at the outside (or the re-use of vertices, but you can't see that in this picture).