Here's what I see: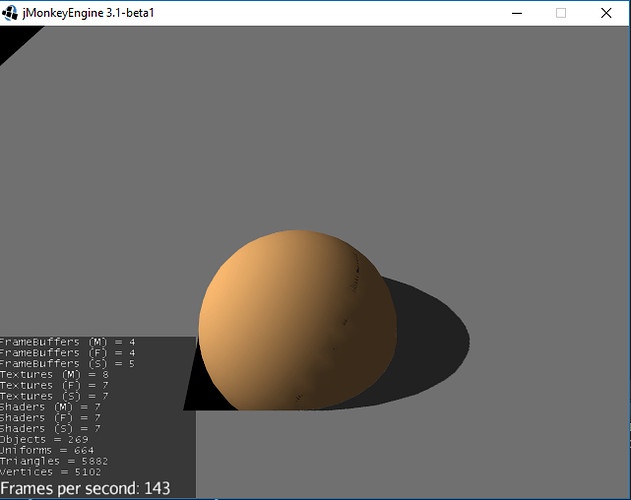 I'm looking at the shadows along the sphere itself. That dark spot next to the sphere is a hole in the ground

Really all I did to this sphere was create the default sphere shape in blender, clicked the smooth button, then exported it with the ogre exporter to a mesh.xml.
My code for the material and such is as follows:
geom = assetManager.loadModel("assets/Models/Sphere.mesh.xml");
Material mat = new Material(assetManager, "Common/MatDefs/Light/Lighting.j3md");
mat.setBoolean("UseVertexColor", true);
mat.setBoolean("UseMaterialColors", true);
mat.setColor("Ambient", color);
mat.setColor("Diffuse", color);
mat.setColor("Specular", color);
mat.setBoolean("VertexLighting", true);
geom.rotate(0, 180 * FastMath.DEG_TO_RAD, 0);
geom.move(1f, 0, -1f);
geom.setShadowMode(ShadowMode.CastAndReceive);
geom.setMaterial(mat);

And my lighting is set up as such:
DirectionalLight sun = new DirectionalLight();
sun.setColor(ColorRGBA.White);
sun.setDirection(new Vector3f(.7f, -0.5f, 0.05f));
rootNode.addLight(sun);

AmbientLight al = new AmbientLight();
al.setColor(ColorRGBA.White.mult(0.3f));
rootNode.addLight(al);

final int SHADOWMAP_SIZE=4096;
final int nbSplits = 4;

DirectionalLightShadowRenderer dlsr = new DirectionalLightShadowRenderer(assetManager, SHADOWMAP_SIZE, nbSplits);
dlsr.setLight(sun);
viewPort.addProcessor(dlsr);

While reducing the SHADOWMAP_SIZE to something like 512 does make the strange shadows on the sphere go away, it also makes the shadow the sphere casts look very bad.
Why are these shadows here?
How do I get rid of them?
Thank you!