This is my first time tinkering with the shader. I don't want to use tex.setWrap (WrapMode.Repeat) in the texture;. I thought to myself, that I could simply reset the texCoord1 in the Frag Shader instead. It is best to understand using a numerical example:
a) The texture should be a 4x4 tile large atlas.
b) A tile is then 0.25f wide.
c) texCoord1.x is taken from [0.25, 0.75[
d) but repetition = 2
e) then texCoord1a.x would be from [0.25, 0.50[ + then either [0.25, 0.50[, simply always subtract a width of 0.25 started from the first 0.50.
f) the repetition is calculated like this:
int repatX = int (texCoord1.z);
vec2 texCoord1a = vec2 (texCoord1.x - repatX * 0.25, texCoord1.y - repatY * 0.25);
where texCoord1.z is from [0, 2[. (I define texCoord1 as vec4)
g) then color * = texture2D (m_ColorMap, texCoord1a);
Analogue bogged down in y with texCoord1.w.
Fun actually works great, but I have unsightly effects on the line between the tiles. Suspect something with biliner rendering or something like that.
How can I solve the problem?
Here is the picture, a bit colorful, because I sat on my previous gradient test.
It is not due to the colors, retest with
colors [4] = new Vector4f (1, 1, 1, 1);
colors [5] = new Vector4f (1, 1, 1, 1);
colors [6] = new Vector4f (1, 1, 1, 1);
colors [7] = new Vector4f (1, 1, 1, 1);

the weird line (medium - dark - light - medium transition):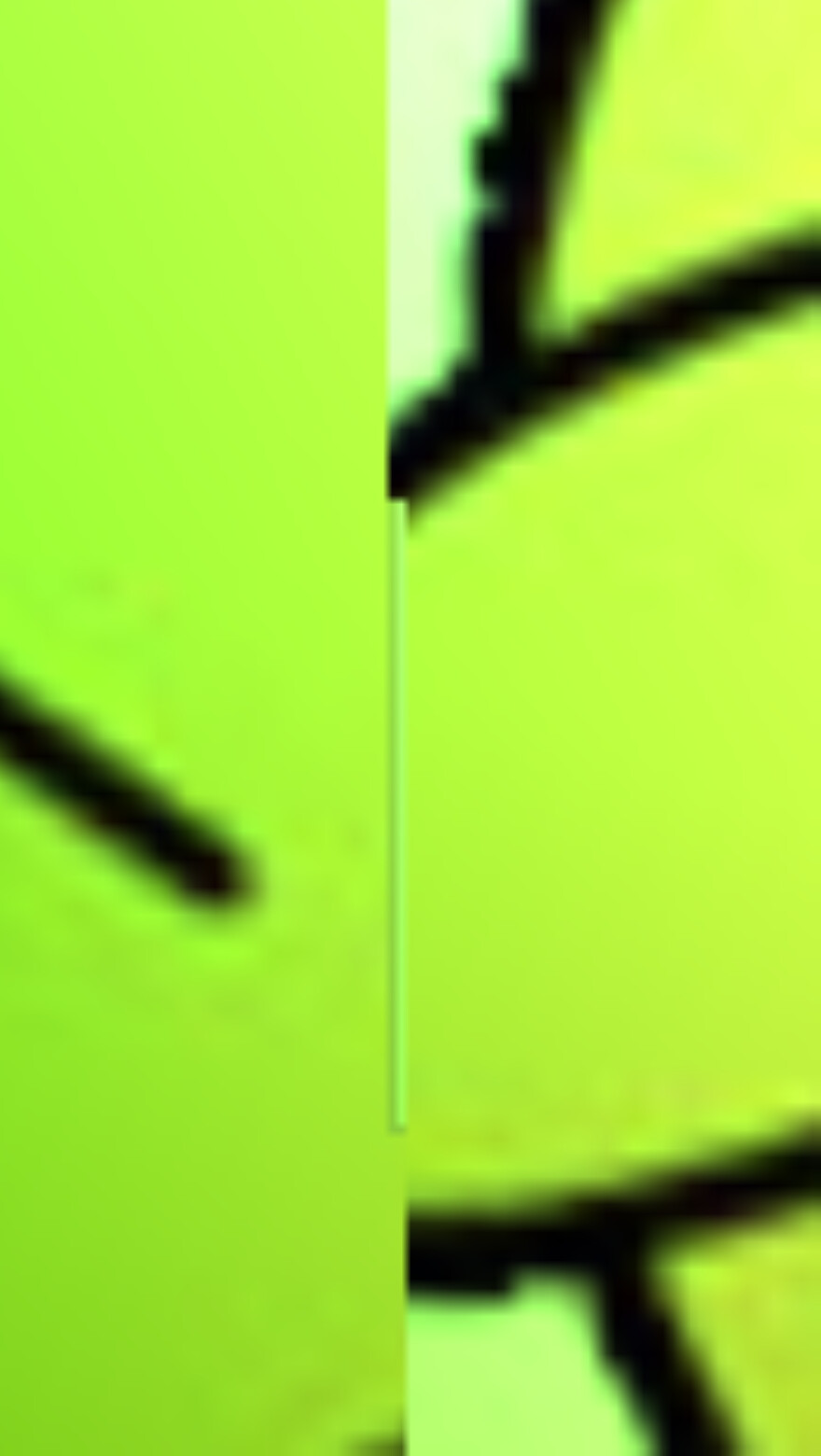 from the square on the right: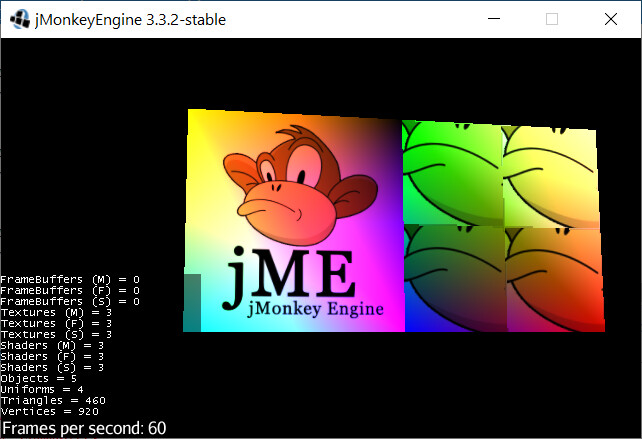 code, java:
package test.jme;

import com.jme3.app.SimpleApplication;
import com.jme3.material.Material;
import com.jme3.math.Vector3f;
import com.jme3.math.Vector4f;
import com.jme3.scene.Geometry;
import com.jme3.scene.Mesh;
import com.jme3.scene.VertexBuffer;
import com.jme3.texture.Texture;
import com.jme3.util.BufferUtils;

public class TestGradient extends SimpleApplication {

	private Material mat;

	public static void main(final String[] args) {
		final TestGradient app = new TestGradient();
		app.start();
	}

	@Override
	public void simpleInitApp() {

		// the points in 3d space where the geometry will be
		final Vector3f[] vertices = new Vector3f[8];
		// one square
		vertices[0] = new Vector3f(0, 0, 0);
		vertices[1] = new Vector3f(3, 0, 0);
		vertices[2] = new Vector3f(0, 3, 0);
		vertices[3] = new Vector3f(3, 3, 0);
		// a second square
		vertices[4] = new Vector3f(3, 0, 0);
		vertices[5] = new Vector3f(6, 0, 0);
		vertices[6] = new Vector3f(3, 3, 0);
		vertices[7] = new Vector3f(6, 3, 0);

		// combine those vetexes into triangles
		final int[] indexes = {
				// first square
				2, 0, 1, 1, 3, 2,
				// second square
				6, 4, 5, 5, 7, 6 };

		// we're not using a texture but if we were this would define whtich parts of
		// the image are where
		final Vector4f[] texCoord = new Vector4f[8];
		texCoord[0] = new Vector4f(0, 0, 0, 0);
		texCoord[1] = new Vector4f(1, 0, 0, 0);
		texCoord[2] = new Vector4f(0, 1, 0, 0);
		texCoord[3] = new Vector4f(1, 1, 0, 0);
		texCoord[4] = new Vector4f(0.25f, 0.40f, 0, 0);
		texCoord[5] = new Vector4f(0.75f, 0.40f, 2, 0);
		texCoord[6] = new Vector4f(0.25f, 0.90f, 0, 2);
		texCoord[7] = new Vector4f(0.75f, 0.90f, 2, 2);

		final Vector4f[] colours = new Vector4f[8];
		// these are Vector4f because we have a red, green, blue and transparency per
		// vertex
		colours[0] = new Vector4f(0, 2, 1, 1);
		colours[1] = new Vector4f(1, 0, 2, 1);
		colours[2] = new Vector4f(2, 1, 0, 1);
		colours[3] = new Vector4f(0, 0, 0, 1);

		colours[4] = new Vector4f(0, 0, 1, 1);
		colours[5] = new Vector4f(1, 0, 0, 1);
		colours[6] = new Vector4f(0, 1.5f, 0, 1);
		colours[7] = new Vector4f(2, 2, 2, 1);

		// now we have all the data we create the mesh
		// for more details
		// https://jmonkeyengine.github.io/wiki/jme3/advanced/custom_meshes.html
		final Mesh mesh = new Mesh();
		mesh.setBuffer(VertexBuffer.Type.Position, 3, BufferUtils.createFloatBuffer(vertices));
		mesh.setBuffer(VertexBuffer.Type.Index, 3, BufferUtils.createIntBuffer(indexes));
		mesh.setBuffer(VertexBuffer.Type.TexCoord, 4, BufferUtils.createFloatBuffer(texCoord));
		mesh.setBuffer(VertexBuffer.Type.Color, 4, BufferUtils.createFloatBuffer(colours));
		mesh.updateBound();

		final Geometry geom = new Geometry("mesh", mesh);

		//mat = new Material(assetManager, "Common/MatDefs/Misc/Unshaded.j3md");
		mat = new Material(assetManager, "assets/matdefs/JaReUnshaded.j3md");
		mat.setBoolean("VertexColor", true);
		final Texture monkeyTex = assetManager.loadTexture("Interface/Logo/Monkey.jpg");
		mat.setTexture("ColorMap", monkeyTex);

		geom.setMaterial(mat);

		rootNode.attachChild(geom);
	}

	@Override
	public void simpleUpdate(final float tpf) {
	}
}

code frag shader:
#import "Common/ShaderLib/GLSLCompat.glsllib"

#if defined(HAS_GLOWMAP) || defined(HAS_COLORMAP) || (defined(HAS_LIGHTMAP) && !defined(SEPARATE_TEXCOORD))
    #define NEED_TEXCOORD1
#endif

#if defined(DISCARD_ALPHA)
    uniform float m_AlphaDiscardThreshold;
#endif

uniform vec4 m_Color;
uniform sampler2D m_ColorMap;
uniform sampler2D m_LightMap;

varying vec4 texCoord1;  //!JaRe!
varying vec2 texCoord2;

varying vec4 vertColor;

void main(){
    vec4 color = vec4(1.0);
    
    //!JaRe! begin
    int repatX = int (texCoord1.z);
    int repatY = int (texCoord1.w);
    vec2 texCoord1a = vec2(texCoord1.x - repatX*0.25, texCoord1.y - repatY*0.25);
    //!JaRe! ende

    #ifdef HAS_COLORMAP
        color *= texture2D(m_ColorMap, texCoord1a);     //!JaRe!
    #endif

    #ifdef HAS_VERTEXCOLOR
        color *= vertColor;
    #endif

    #ifdef HAS_COLOR
        color *= m_Color;
    #endif

    #ifdef HAS_LIGHTMAP
        #ifdef SEPARATE_TEXCOORD
            color.rgb *= texture2D(m_LightMap, texCoord2).rgb;
        #else
            color.rgb *= texture2D(m_LightMap, texCoord1a).rgb;    //!JaRe!
        #endif
    #endif

    #if defined(DISCARD_ALPHA)
        if(color.a < m_AlphaDiscardThreshold){
           discard;
        }
    #endif

    gl_FragColor = color;
}

code vert shader:
#import "Common/ShaderLib/GLSLCompat.glsllib"
#import "Common/ShaderLib/Skinning.glsllib"
#import "Common/ShaderLib/Instancing.glsllib"
#import "Common/ShaderLib/MorphAnim.glsllib"

attribute vec3 inPosition;

#if defined(HAS_COLORMAP) || (defined(HAS_LIGHTMAP) && !defined(SEPARATE_TEXCOORD))
    #define NEED_TEXCOORD1
#endif

attribute vec4 inTexCoord;     //!JaRe!
attribute vec2 inTexCoord2;
attribute vec4 inColor;

varying vec4 texCoord1;     //!JaRe!
varying vec2 texCoord2;

varying vec4 vertColor;
#ifdef HAS_POINTSIZE
    uniform float m_PointSize;
#endif

void main(){
    #ifdef NEED_TEXCOORD1
        texCoord1 = inTexCoord;
    #endif

    #ifdef SEPARATE_TEXCOORD
        texCoord2 = inTexCoord2;
    #endif

    #ifdef HAS_VERTEXCOLOR
        vertColor = inColor;
    #endif

    #ifdef HAS_POINTSIZE
        gl_PointSize = m_PointSize;
    #endif

    vec4 modelSpacePos = vec4(inPosition, 1.0);

    #ifdef NUM_MORPH_TARGETS
        Morph_Compute(modelSpacePos);
    #endif

    #ifdef NUM_BONES
        Skinning_Compute(modelSpacePos);
    #endif

    gl_Position = TransformWorldViewProjection(modelSpacePos);
}