I'm trying to install jMonkeyEngine 3 SDK, using the Windows 64-bit installer. The "jMonkeyEngine SDK Installer" window appears with the message "Configuring the installer…" and the progress bar moves up to about 33% and then stops. I've let it sit for hours with no further progress.
I've tried re-downloading the installer in case of file corruption and I have also tried the 32-bit installer, but that exhibits the same behavior. There are no error messages or any indication of what it is stuck on.
Is there any way to run the installer in a verbose mode to tell where it is getting hung up?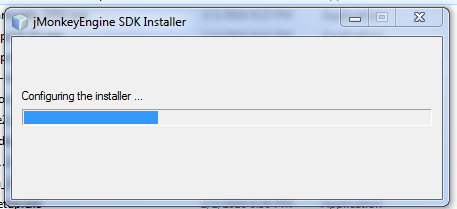 System Info:
Windows 7 Home Premium, SP 1
Java 7 Update 51
Java 8 Update 73
Java 8 Update 74 (64-bit)
JDK 8 Update 74 (64-bit)