So as my WIP shows I'm working on a custom mesh. (July 2016) Monthly WIP screenshot thread - #67 by thecyberbob
I've started working on texturing it and I'm running into… issues. I've determined that it's probably to do with how I do either the vertices and/or how I assign texture coordinates. Just a quick bit of background first though.
Since the icosahedron I'm making starts as a 20 sided sphere made of equilateral triangles I thought to myself "HEY! All I need to do to make quads out of all that is pair up each triangle and boom!" After I had all the vertices sorted out and linked up I was able to make the shape I wanted easily. NOW to assign vertices.
Issue is that I want to assign textures to each quad. If this is arranged in a single texture the image could be huge to ensure each quad has a unique texture. So I thought why not just make a small set of the various variations and just have each quad select part of the texture instead?
Now comes the issue. I tried that and things didn't work out well. But I think I have a solution but I need some clarification on texture coordinates in how they relate to vertices and quads.
Say I have 1 texture that I want to apply across 2 quads that are linked at a similar vertice like so: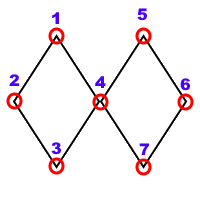 I link the left and right quads properly but they share a common vertice (number 4).
When I make the texture coordinate array is each texture coordinate linked to only 1 vertice? Or are they associated to the indexes array?
In the example given would there be an array of 7 texture coordinates or 8?